Please create an account to view this recorded webinar.
Create an account
Creating an account is easy. Click the button below to fill out the registration form. Your request will be reviewed and an email confirming your account will be sent within one business day.
Create an Account
Login to your account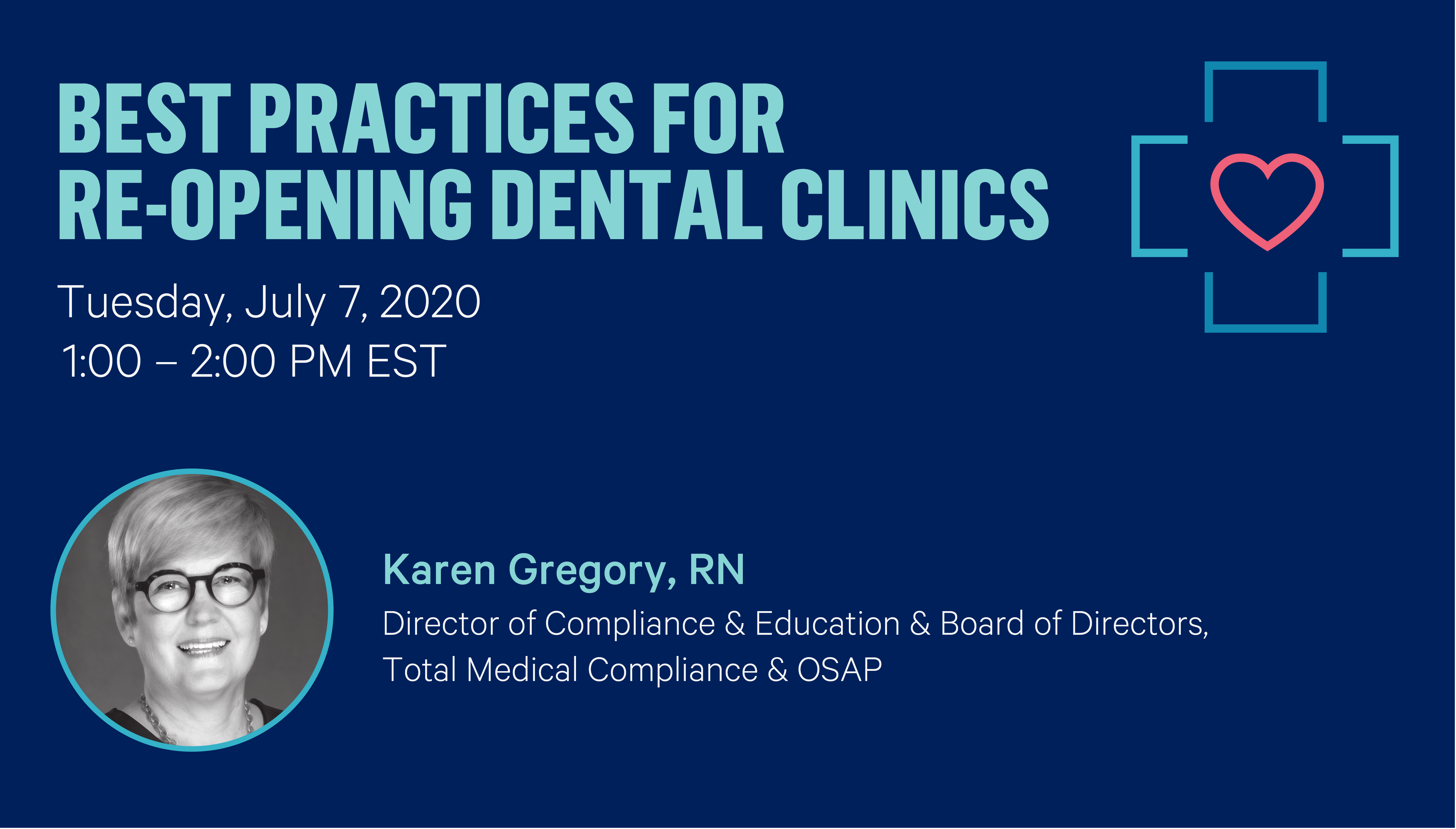 Date: Tuesday, July 7, 2020 - 01:00pm ET / Duration: 1 hour / CE Credits: 1
PowerPoint Slide Download:
This is the second joint webinar from the DentaQuest Partnership and the Organization for Safety Asepsis and Prevention (OSAP), focusing on the guidance provided by the ADA, OSHA, the CDC and other dental associations to re-open dental practices.This webinar will introduce dental professionals to a tool that will help with successful re-opening implementation.
Presenters:
Karen Gregory, RN, Director of Compliance & Education & Board of Directors, Total Medical Compliance & OSAP

Karen has over 20 years of experience working in the outpatient environment, both at the front line delivering patient care and in the management arena. She is a frequent speaker for professional organizations and at conferences nationwide on OSHA, HIPAA and Infection Control and serves on the OSAP Board of Directors.
Learning Objectives:
Identify resources to ensure your clinic remains current with the evolving COVID–19 pandemic
Discuss measures to reduce the likelihood of the spread of infection as patient care increases
Recording will be made available.
Sign up to receive our newsletter to get more information on future webinars.
This continuing education activity has been planned and implemented in accordance with the standards of the ADA Continuing Education Recognition Program (ADA CERP) through joint efforts between the Organization of Safety Asepsis and Prevention (OSAP) and DentaQuest Partnership for Oral Health Advancement. Please note: ADA CERP Continuing Education credits are available for live versions of these webinars as well as for certain online learning versions available in the Online Learning Center.