Please create an account to view this recorded webinar.
Create an account
Creating an account is easy. Click the button below to fill out the registration form. Your request will be reviewed and an email confirming your account will be sent within one business day.
Create an Account
Login to your account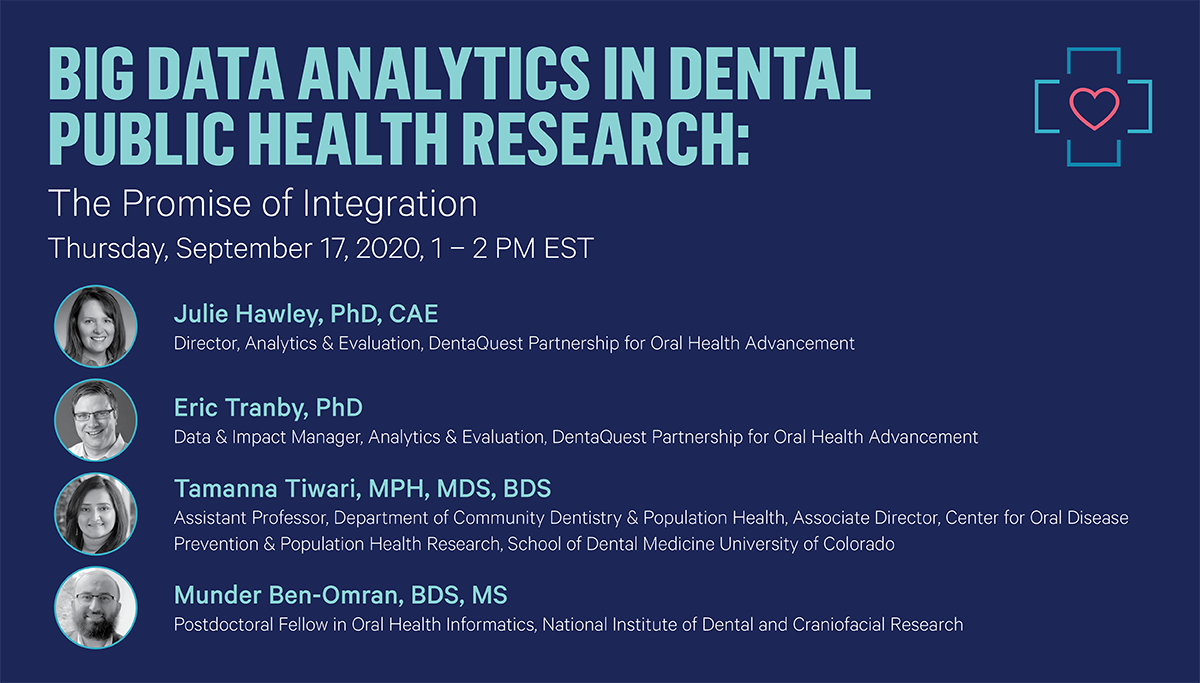 Date: Thursday, September 17, 2020 - 01:00pm EST / Duration: 1 hour / CE Credits: 1
PowerPoint Slide Download:
Optimal health depends not only on access and utilization of care but also on the analysis and implementation of knowledge gained from data. Electronic Health Record (EHR) data has greatly increased the quantity of data available to understand and improve population health. However, the lack of standardization in dental EHR and the lack of integration with medical records creates unique challenges in dental public health research. This webinar presents the role of big data in understanding oral health, highlighting the complex nature of the data for analysis, and the promises and pitfalls associated with its use.
Topics discussed will include:
Analytical roadblocks experienced when using large-scale electronic health records datasets and how to overcome them
Research using medical/dental integrated data to improve health, with examples
EHR interoperability and opportunity to improve outcomes
The webinar closes with a discussion about how increased interoperability of dental and medical data can be used to improve the overall and oral health of patients.
Learning Objectives:
To improve knowledge of big data analytics and its limitations within the current system
To better understand how the application of data, through analysis of diabetes and antibiotic stewardship, can improve and maintain the health of patients
To highlight and identify where policy, care, and interoperability gaps exist, and how closure could significantly improve outcomes
Presenters:
Julie Hawley, Ph.D., CAE, Director, Analytics & Evaluation, DentaQuest Partnership for Oral Health Advancement
Eric Tranby, PhD, Data & Impact Manager, Analytics & Evaluation, DentaQuest Partnership for Oral Health Advancement
Tamanna Tiwari, MPH, MDS, BDS, Assistant Professor, Department of Community Dentistry & Population Health, Associate Director, Center for Oral Disease Prevention & Population Health Research, School of Dental Medicine University of Colorado  
Munder Ben-Omran, BDS, MS, Postdoctoral Fellow in Oral Health Informatics, National Institute of Dental and Craniofacial Research