Please create an account to view this recorded webinar.
Create an account
Creating an account is easy. Click the button below to fill out the registration form. Your request will be reviewed and an email confirming your account will be sent within one business day.
Create an Account
Login to your account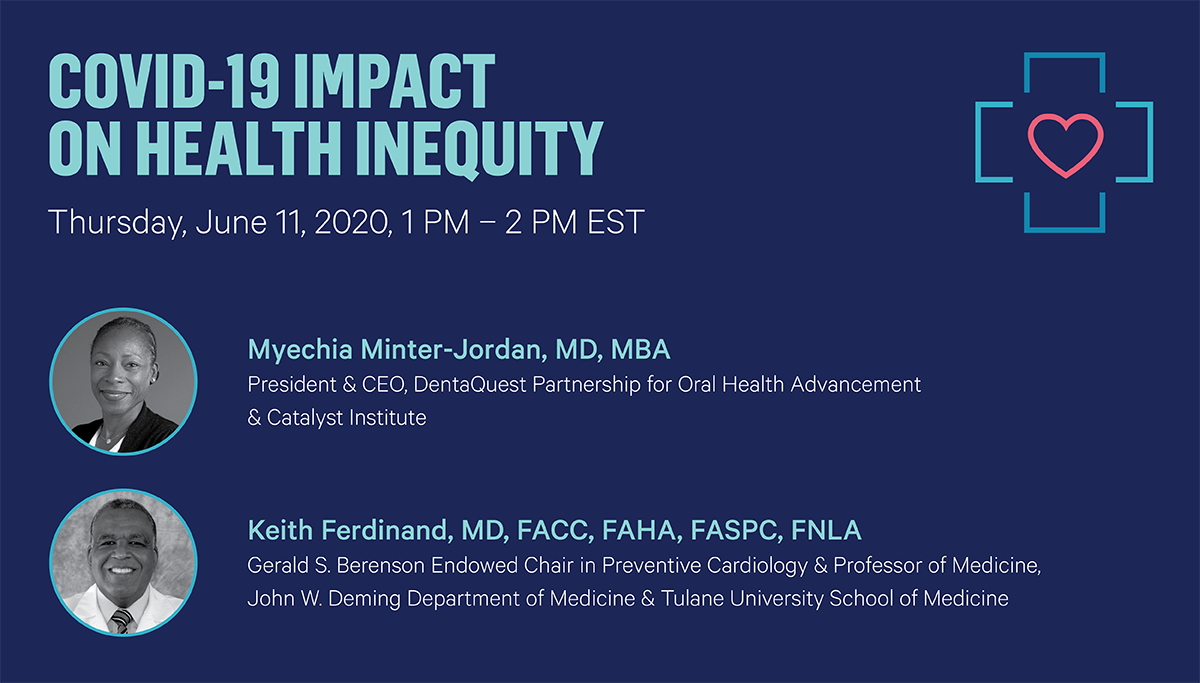 Date: Thursday, June 11, 2020 - 01:00pm EST / Duration: 5 / CE Credits: 1
PowerPoint Slide Download:
The COVID-19 pandemic has disproportionately affected minority groups who continually face barriers to care. This webinar will address the effects of COVID-19 on the oral and overall health of racial and ethnic minority groups.
Presenters:
Myechia Minter-Jordan, MD, MBA, President & CEO, DentaQuest Partnership for Oral Health Advancement & Catalyst Institute
Keith Ferdinand, MD, FACC ,FAHA , FASPC, FNLA, Gerald S. Berenson Endowed Chair in Preventive Cardiology & Professor of Medicine, John W. Deming Department of Medicine & Tulane University School of Medicine
Learning objectives:
Identify the health inequities and barriers to oral health care by race and income
Discuss cardiovascular disease disparities by race/ethnicity and socioeconomic status impacted by COVID-19
Discuss oral health and cardiovascular link
Recording will be made available.
Sign up to receive our newsletter to get more information on future webinars.