Please create an account to view this recorded webinar.
Create an account
Creating an account is easy. Click the button below to fill out the registration form. Your request will be reviewed and an email confirming your account will be sent within one business day.
Create an Account
Login to your account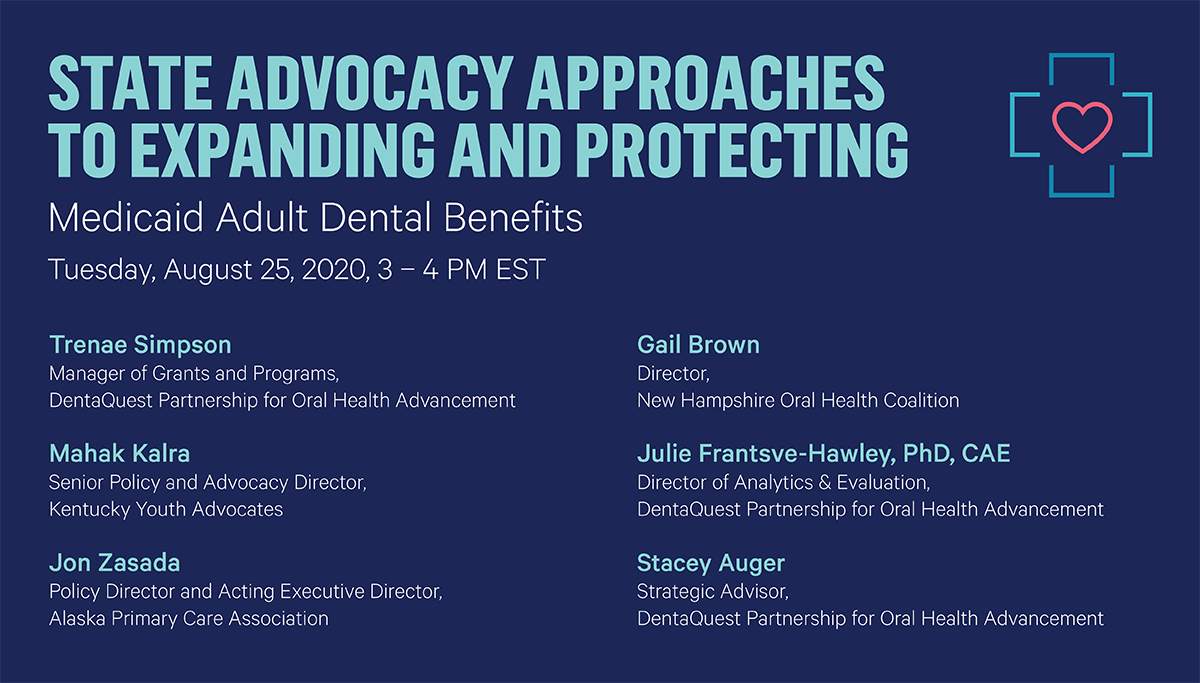 Date: Tuesday, August 25, 2020 - 03:00pm EST / Duration: 1 hour
Join a webinar on strategies, tactics, and tools that advocates across the country can use to protect and expand Medicaid adult dental benefits in their state.    
The COVID-19 pandemic continues to have a devastating impact on the health care systems and state infrastructure across the United States. With echoes of the 2008 recession and as states continue to learn the size of their budgetary shortfalls, Medicaid adult dental benefits face an increasing number of threats. At the same time, dental care remains critically important to overall health and advocates in several states are advancing strategies to create a more robust benefit for adult beneficiaries in order to improve overall health, reduce unnecessary emergency room usage and hospitalization costs, promote employment, and reduce opioid dependence. This webinar will highlight specific and replicable tactics that advocates in several states have used or are using, to expand and protect this critical coverage.   
Expert Speakers:  
Trenae Simpson, Grants and Programs Manager, DentaQuest Partnership for Oral Health Advancement 
Mahak Kalra, Senior Policy and Advocacy Director, Kentucky Youth Advocates  
Jon Zasada, Policy Director & Acting Executive Director, Alaska Primary Care Association 
Gail Brown, Director, New Hampshire Oral Health Coalition 
Julie Frantsve-Hawley, PhD, CAE, Director of Analytics & Evaluation, DentaQuest Partnership for Oral Health Advancement 
Stacey Auger, Strategic Advisor, DentaQuest Partnership for Oral Health Advancement  
Learning Objectives:  
Understand national trends in Medicaid adult dental benefit policies amidst COVID-19 and state budgetary shortfalls.  
Discuss specific tactics that are being used around the country by state and safety-net partners to advocate to protect or expand Medicaid adult dental benefits.   
Explore opportunities and ongoing points of leverage for gaining new skills and strategies for advocacy as scheduled and special legislative sessions are on the horizon.