Please create an account to view this recorded webinar.
Create an account
Creating an account is easy. Click the button below to fill out the registration form. Your request will be reviewed and an email confirming your account will be sent within one business day.
Create an Account
Login to your account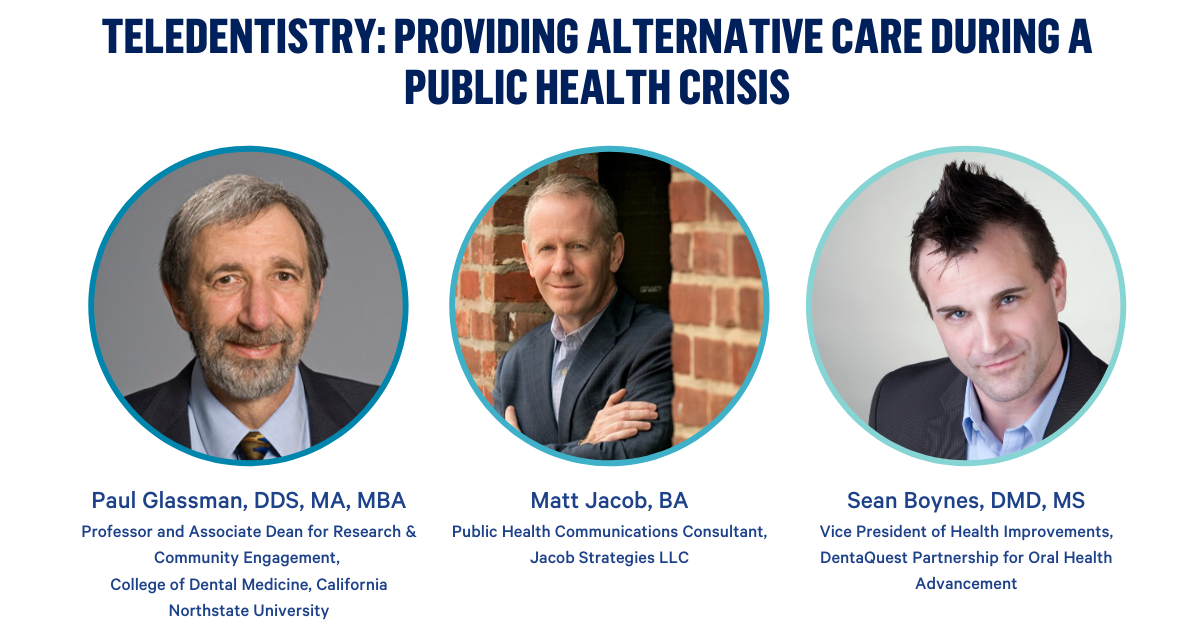 Date: Monday, April 6, 2020 - 01:00pm ET / / CE Credits: 1.5
PowerPoint Slide Download:
This webinar will explore the ability of using Teledentistry to address limited access to care during a public health crisis, and discuss policy issues and solutions. 
Presenters:
Paul Glassman, DDS, MA, MBA, Professor and Associate Dean for Research & Community Engagement, College of Dental Medicine, California Northstate University
Matt Jacob, BA, Public Health Communications Consultant, Jacob Strategies LLC
Sean Boynes, DMD, MS, Vice President of Health Improvements, DentaQuest Partnership for Oral Health Advancement  
Learning Objectives:
Recognize Teledentistry as a mode to increase access to dental care in urgent situations.
Describe policy issues around Teledentistry and the potential solutions for policymakers.
Understand examples of how Teledentistry has been used to improve access to care.
Sign up to receive our newsletter to get more information on future webinars.