Please create an account to view this recorded webinar.
Create an account
Creating an account is easy. Click the button below to fill out the registration form. Your request will be reviewed and an email confirming your account will be sent within one business day.
Login to your account
PowerPoint Slide Download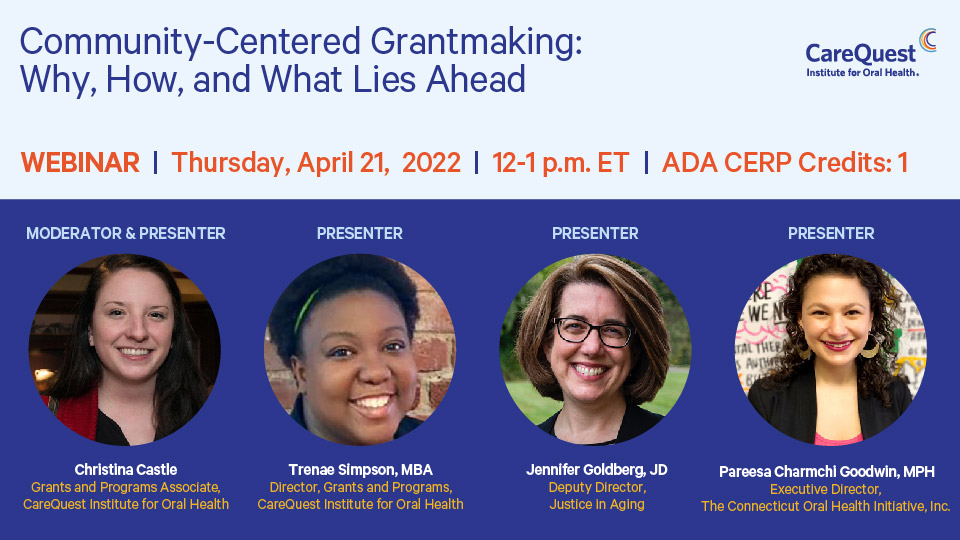 Description
Every year, CareQuest Institute awards more than $12 million in grants to strengthen our communities, reimagine more equitable systems, and create better oral health for all. How does that funding make a difference? Why does it exist in the first place? And how do grantees drive national, regional, and local change?
A panel of experts — including grantmaking leadership at CareQuest Institute and leaders from grantee organizations — will explore those questions in a one-hour webinar on Thursday, April 21 at 12 p.m. ET. We'll discuss the historical power imbalances in oral health and the urgent need for systems-change solutions built in collaboration with the communities most impacted by the problems we are trying to solve. Participants will also hear from grantees about their daily, on-the-ground efforts to effect change and learn more about the grantee application process.
Learning Objectives:
Identify the power imbalances in oral health and why there's a need for new voices in decision-making across the system.
Recognize the importance of community, collaboration, and partnerships in effecting change in oral health.
Discuss one organization's ongoing efforts to fight for a comprehensive, equitable dental benefit in Medicare.
Explain how lived experiences of individuals can help create broad change in the oral health system.
Moderator and Presenter:
Christina Castle, Grants and Programs Associate, CareQuest Institute for Oral Health
Presenters:
Trenae Simpson, MBA, Director, Grants and Programs, CareQuest Institute for Oral Health
Jennifer Goldberg, JD, Deputy Director, Justice in Aging
Pareesa Charmchi Goodwin, MPH, Executive Director, The Connecticut Oral Health Initiative, Inc.
This webinar will be recorded.

CareQuest Institute for Oral Health is an ADA CERP Recognized Provider.
ADA CERP is a service of the American Dental Association to assist dental professionals in identifying quality providers of continuing dental education. ADA CERP does not approve or endorse individual courses or instructors, nor does it imply acceptance of credit hours by boards of dentistry. CareQuest Institute for Oral Health designates this activity for 1 continuing education credit.
This continuing education activity has been planned and implemented in accordance with the standards of the ADA Continuing Education Recognition Program (ADA CERP) by CareQuest Institute for Oral Health.
Participating instructor(s) in this program have disclosed that they have the following financial arrangement or affiliation with the listed corporate organization offering financial support or grant monies for or related to the content of this program/activity.
Pareesa Charmchi Goodwin, MPH, Connecticut Oral Health Initiative, Inc.
Connecticut Oral Health Initiative, Inc is a grantee of CareQuest Institute
Jennifer Goldberg, JD
Justice in Aging is a grantee of CareQuest Institute