Enter your email to receive the CareQuest newsletter:
State of Oral Health Equity in America 2021
The following series of reports was developed from findings from a nationally representative survey of consumer and patient attitudes, experiences, and behaviors on oral health. The survey was designed and commissioned by CareQuest Institute for Oral Health. You can also learn more about findings from the second annual survey in 2022.
Visual Reports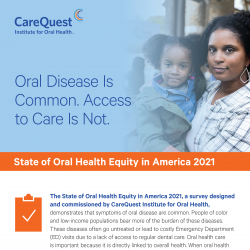 Oral Disease Is Common. Access to Care Is Not.
Visual Report #1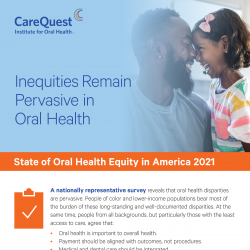 Inequities Remain Pervasive in Oral Health
Visual Report #2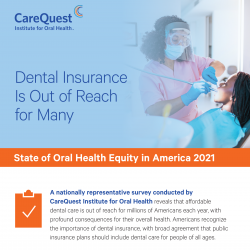 Dental Insurance Is Out of Reach for Many
Visual Report #3
Methodology
The survey was collected in January and February 2021 on adults 18 and older by NORC at the University of Chicago on the AmeriSpeak panel. AmeriSpeak is a probability-based panel designed to be representative of the US household population. Randomly selected US households were sampled using area probability and address-based sampling, with a known, non-zero probability of selection from NORC National Sample Frame. Sampled households were contacted by U.S. mail, telephone, and field interviewers. A sampling unit of 16,986 was used, with a final sample size of 5,320 and a final weighted cumulative response rate of 5.2%. All data presented account for appropriate sample weights. The margin of effort for the survey is 1.86%.