Medicaid Adult Dental Benefit Expansion
Medicaid Dental Coverage by State
The Medicaid Adult Dental Coverage Checker is an interactive tool for policymakers, administrators, and advocates to easily understand where a given state's Medicaid adult dental benefits package falls on a continuum from no dental benefits to extensive benefits, helping identify areas for improvement and expansion. It looks at coverage of specific procedures and services, including allowed frequency, in eight service categories.
The Coverage Checker displays results that were self-reported by state dental directors or their equivalent in a survey conducted in spring 2020. The survey, known as the Rubric for Assessing Extensiveness of State Medicaid Adult Dental Benefits, was developed in partnership with the American Dental Association Health Policy Institute (ADA HPI), Center for Health Care Strategies (CHCS), National Academy for State Health Policy (NASHP), CareQuest Institute, and advisory committee members.
The survey defined an extensive dental benefit and evaluated coverage within eight service categories — annual benefit maximum, diagnostic, preventive, restorative, endodontic, periodontal, prosthodontic, and extraction services — which are evaluated with a point system.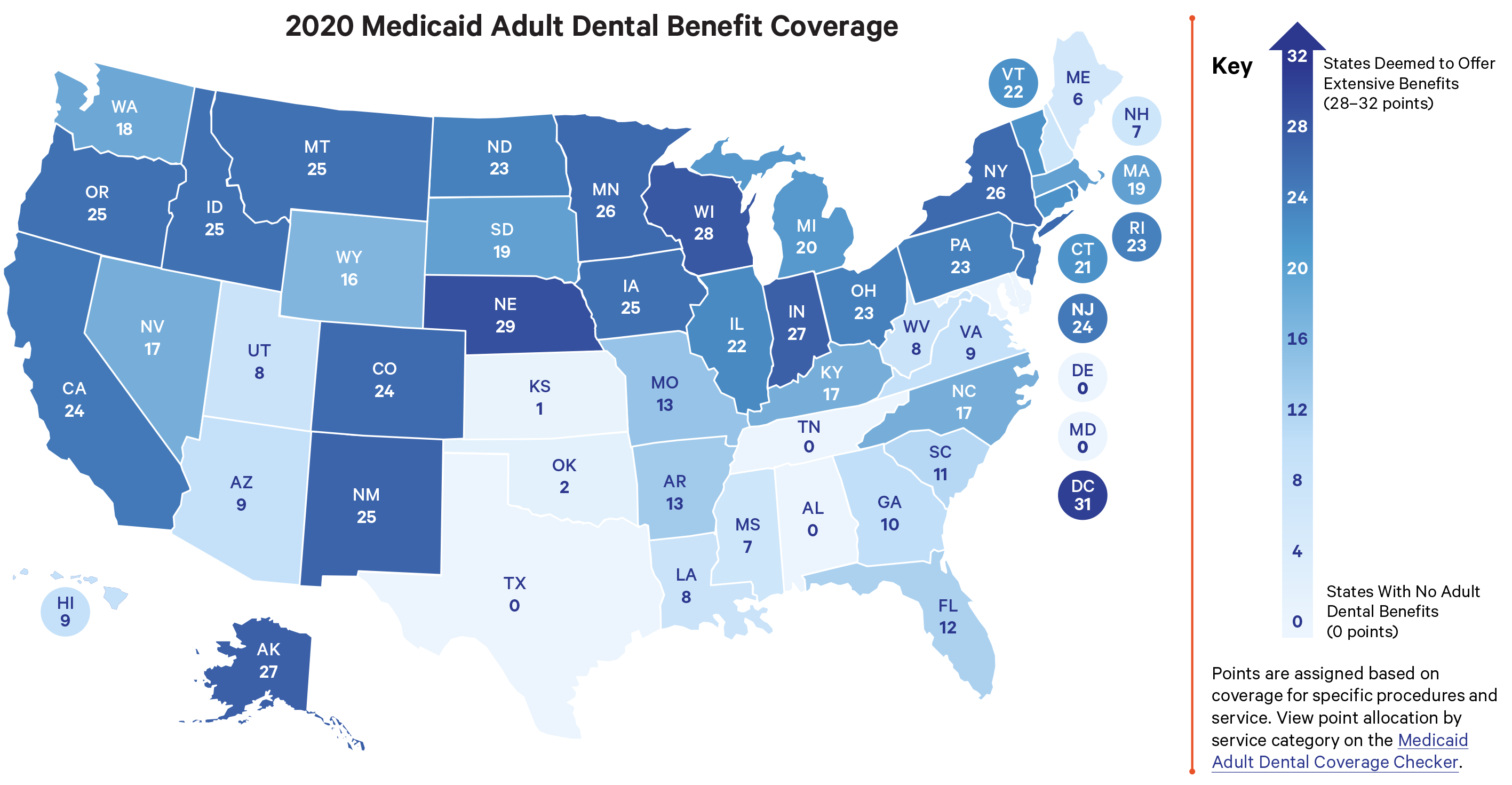 The data above represent a snapshot in time and are reflective of coverage offered by each state at the time of completion. It is important to note that several states have significantly increased their Medicaid adult dental benefit offerings since the survey was completed. (Note: The Tableau dashboard renders best on a desktop.)
How to Strengthen Medicaid Adult Dental Benefits
Medicaid Adult Dental Benefit Toolkit for Advocates
This toolkit contains resources that reveal why dental coverage is so important for lower-income Americans and materials to review and share with policy makers.
Contact Your Local Officials
Contact your local officials to advocate for state or federal expansion of adult dental benefits.
Cutting Medicaid Adult Dental Benefits Would Hurt States in Unexpected Ways
Cutting Medicaid adult dental benefits could harm job growth, increase costs, and harm states in other unexpected ways. Providing adult dental coverage can improve job prospects, reduce costly visits to hospitals, save states money, and increase the likelihood of children getting dental care.
How West Virginia Is Using the Medicaid Adult Dental Coverage Checker
The Medicaid Adult Dental Coverage Checker doesn't just provide numbers — it tells a story that oral health leaders can tell state lawmakers. "I think when you first see it, it's kind of shock and awe. It confirms where you're at. But once you get past that, then you start to visualize how you can use the tool to implement change," says Jason Roush, DDS, dental director in West Virginia, about the Medicaid Adult Dental Coverage Checker in a new blog post.
Maryland's Successful Path to Securing Dental Coverage for Low-Income Adults
It was the tragic death of 12-year-old Deamonte Driver — a boy who died from an untreated tooth infection that spread lethal bacteria to his brain — that first compelled advocates in Maryland to take up the fight to expand dental coverage to low-income children in 2007. As they made meaningful advances in dental coverage for children in Maryland, the organization at the forefront of this work, the Maryland Dental Action Coalition (MDAC), then turned its attention to expanding dental coverage for adults on Medicaid.
A New Oral Health Outlook for 2 Million Americans
Nearly 2 million people will soon be gaining access to Medicaid dental benefits. How? Hard-fought legislative wins, thanks to the persistence of community members, advocates, and legislative champions, have changed the oral health landscape in the US. This blog provides a rundown of the latest developments in Hawaii, Kansas, Maryland, New Hampshire, and Tennessee from the 2022 legislative session and explains what's next for the ongoing expansion efforts in other states.
Acknowledging Our Partners
The Rubric for Assessing Extensiveness of State Medicaid Adult Dental Benefits was developed in partnership with a core group and an advisory committee of experts in the field. After significant expansion and restoration of Medicaid adult dental benefits in several states several years ago, CareQuest Institute and the ADA Health Policy Institute collaborated to update the ADA's classification of states.
Buoyed by these policy wins, CareQuest Institute shared that new round of classifications with grantees and partners and realized there was an appetite to form a larger workgroup. That workgroup quickly decided the oral health community would benefit from a new assessment tool, something that would move the industry beyond simply counting the number of procedures covered. The Coverage Checker is the output of that yearslong effort.
Core Group Organizations:
American Dental Association Health Policy Institute (ADA HPI)
Center for Healthcare Strategies (CHCS)
National Academy for State Health Policy (NASHP)
CareQuest Institute for Oral Health
Advisory Committee Members:
Stacey Auger, MPH, Policy Consultant, CareQuest Institute for Oral Health
Donna Balaski, DMD, Healthcare Administration Management, State of Connecticut, Department of Social Services Division of Health Services
Stacey Chazin, MPH, MSODL, Health Policy and Leadership Consultant, formerly with the Oral Health Progress and Equity Network
Dora Fisher, Formerly Director of Older Adult Programs, Oral Health America
Chelsea Fosse, DMD, MPH, Senior Health Policy Analyst, American Dental Association Health Policy Institute
Steven Geiermann, DDS, Retired, Senior Manager, Access, Community Oral Health Infrastructure and Capacity, American Dental Association Council on Advocacy for Access and Prevention
Tracy Gilman, CDA, MSM, Regional Director, MassHealth Contract at DentaQuest
Carrie Hanlon, MPP, Project Director, National Academy of State Health Policy
Robert Isman, DDS, MPH, Formerly Dental Program Consultant, California Department of Health Care Services
Michael Monopoli, DMD, MPH, MS, FACD, FICD, Vice President for Grant Strategy, CareQuest Institute for Oral Health
Bianca Rogers, Formerly Advocacy Coordinator, Oral Health America
Andrew Snyder, MPA, Formerly Project Director, National Academy of State Health Policy
Madeline Steward, MPH, Program Officer, Center for Health Care Strategies
Cassandra Yarbrough, MPP, Formerly Lead Public Policy Analyst, American Dental Association Health Policy Institute