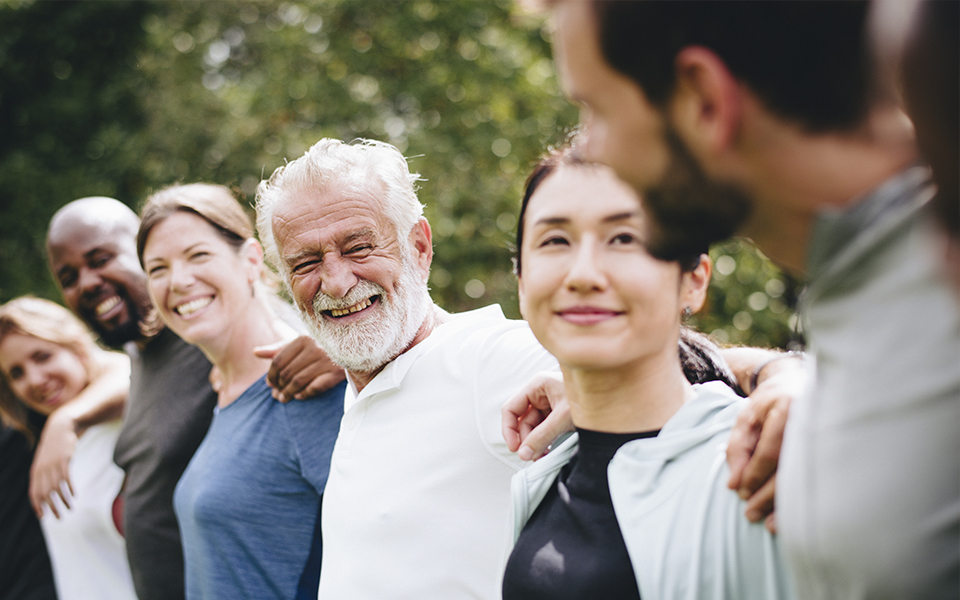 We'll achieve health equity, according to the CDC, when every person has the opportunity to "attain his or her full health potential" and no one is "disadvantaged from achieving this potential because of social position or other socially determined circumstances."
At CareQuest Institute for Oral Health, we're working every day to help make that definition a reality. We collaborate with thought leaders, health care providers, patients, and stakeholders at all levels to create a system designed for everyone.
Because if we don't do that, if we don't design a system for everyone, we're left with a system that doesn't work for anyone.
The Obstacles to Equity
The stark inequities in our society are all too clear — and those same inequities carry through into the oral health care system. Today, more than 76.5 million Americans have no dental coverage, missing the chance to live a life with good oral health. Recent CareQuest Institute research has found that low-income individuals face multiple obstacles to accessing the dental care they need:
93% of individuals living in poverty have unmet dental needs, compared with 58% in high-income families.
Only 28% of individuals living in poverty utilize dental services, compared with 55% of high-income families.
As a proportion of annual family income, those in poverty spend ten times more on dental services than do those in high-income families.
In addition to income, the inequities have a racial dimension, which manifest in a variety of ways. Lack of insurance, excessive costs, discrimination experiences, and other factors lead to racial disparities within the oral health care system. For example:
Latino adults are 52% more likely than white adults to report having difficulty doing their job due to poor oral health.
Nearly 4 in 10 Black and Latino adults reside in the 14 states where Medicaid's adult dental benefits cover no services or emergency-only care.
The Unequal Toll of the COVID-19 Pandemic
Those racial inequities have been both exposed and exacerbated by the COVID-19 pandemic, which has disproportionately affected Black and Latino Americans. Once again, the most vulnerable members of society have faced more hardships and barriers to the care and resources they need.
Sadly, it's not new. The inequities in our health care system have existed for decades, as people of color have long experienced significant differences in care access, treatment, and quality. Now, as these same communities suffer from COVID-19 at disproportionately higher rates, the country is waking up to this disturbing reality.
For example, life expectancy for the total U.S. population declined by a year, to 77.8 years, in the first six months of 2020. But the decline was much worse in communities of color. Life expectancy within Black populations declined the most — by 2.7 years, to 72 years, which is the lowest level since 2001. Latinos' life expectancy fell 1.9 years to 79.9, which is its lowest recording since 2006.
Providers of color, too, have faced greater hardships because of the pandemic. They see, first-hand, the effects of COVID-19 on their communities and the patients of color they serve.
They are uniquely aware of both the effects of oral health on overall health and how COVID-19 affects their patients and those in the community.
It has hurt providers financially, too. A recent CareQuest Institute report revealed that 71% of oral health providers of color saw significant reductions in patient volumes since the COVID-19 pandemic began, compared to 57% of white providers.
Making Strides Toward Equity
The pandemic has made it abundantly clear that the current safety net has failed too many Americans. The same was true before the pandemic, too. Veterans, for example, also lack the oral health coverage and access they need and deserve. According to CareQuest Institute research, compared to non-veterans, veterans have consistently higher rates of periodontitis, missing teeth, and filled teeth. Veterans are also more likely to have health conditions such as diabetes and hypertension that are associated with poor oral health and often lead to higher out-of-pocket costs for patients.
How can we improve the system for all? We need to ensure comprehensive access to oral health care through public benefit programs. Oral health directly connects to overall health, so making sure programs like Medicaid and Medicare include an adult dental benefit is crucial to improving access and equity. At a time when state budgets are in crisis, we need to protect the progress we've made in expanding adult dental benefits. Thanks to hard-working advocates, in 2019, at least 14 states introduced changes to mandate more dental coverage for Medicaid and Medicare beneficiaries.
Providers are also starting to think beyond the traditional visit to the dentist's office. Teledentisty has been gaining in popularity, especially during the pandemic. In fact, according to the 30% of oral health providers of color anticipate increased use of noncontact dentistry (telehealth, telephone calls, etc.), compared to 18% of white providers.
Providers have started using innovative strategies to reach patients. Many screenings, preventive services, and educational services can be delivered at schools, at medical offices, from mobile vans and in other untraditional settings. (CareQuest Institute has found that nearly 1 million Medicaid-enrolled children nationwide already rely on schools to access basic preventive dental care.)
We have a long way to go, but with persistent and creative effort, we can move closer to health equity — toward a country in which everyone enjoys good oral and overall health.
Grant Opportunity
Learn more about the grantmaking fund that supports efforts to erase unjust disparities across oral health access, treatment, and outcomes.