The path ahead needs champions of progress
Together, we are improving the oral health of all.

Sign up for our newsletter to get timely oral health news, stories, resources, and education.
Virtual Event Sept. 29 at 1 p.m. ET
Future of Medicare and Oral Health
Join us for a free live virtual event with The Hill to hear from lawmakers, health experts, and patient advocates about the latest on the efforts to strengthen Medicare for our nation's older adults and people with disabilities.
Dental Data Exchange
HL7® Implementation Guides
As part of the Dental Data Exchange Project, CareQuest Institute helped develop the first implementation guides to help bridge the communication gap between primary care and oral health care.
Webinar Sept. 30 at 1 p.m. ET
Building Antiracist Policies and Practices into Health Care Settings
Join a panel of experts from oral health and primary care explore the foundations of racism and how those foundations shape our care environments.
Search all CareQuest Institute resources by topic area
Find webinars, online learning courses, training opportunities, publications, and more using our new search-by-topic tool.
Catalysts for change
We work with thought leaders, health care providers, patients, and local, state, and federal stakeholders, to accelerate oral health care transformation and create a system designed for everyone.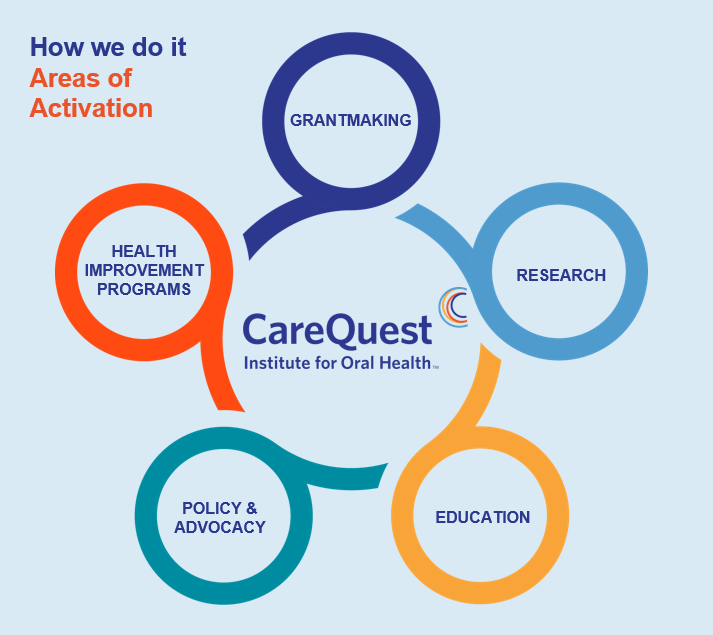 To drive meaningful change, we approach key oral health issues from a variety of perspectives and through a variety of tools.