2019 grants now total $8.9M to organizations working to improve oral health
The DentaQuest Partnership for Oral Health Advancement (DentaQuest Partnership) today announced its investment of $2.8 million in organizations across the U.S. dedicated to improving the oral health of all. Today's announcement captures grants awarded in the second quarter of 2019, with a total of $8.9 million awarded to-date in 2019 and additional funding to be awarded through the end of the year.
The DentaQuest Partnership's grantmaking strategy focuses on investments that drive systems change in oral health through national and community-based initiatives in key focus areas (illustrated in the chart below) and through partnerships and network development, including OPEN – the Oral Health Equity and Progress Network. OPEN's nearly 2,000 members advance changes that improve poor oral health outcomes and address significant health disparities against a set of collective goals. The majority of the second quarter grants supported oral health organization and stakeholder participation in OPEN at the local, state and national levels.
"Right now, our health care system operates as though the mouth isn't a part of the body, but oral health is in fact fundamentally tied to our overall health and well-being," said Alison Corcoran, President of the DentaQuest Partnership. "Through our grants program, we invest in the future of oral health and fund critical work being done across the country to improve the oral health care system. Our second quarter investments help our many partners participate in OPEN and join us in driving systems change."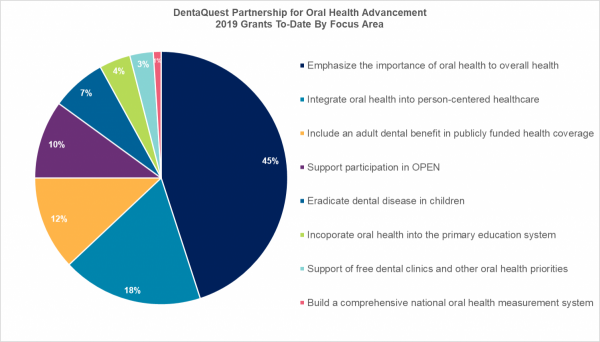 A few examples of organizations receiving grants this quarter include the Better Oral Health for Massachusetts Coalition, which advocates statewide for increased access and improved policies for oral health care; the Hawaii Public Health Institute, which advocates for better oral health coverage in Medicaid across the state; and Critical Learning Systems in Tennessee, which is working to expand a data-mapping tool on oral health needs. The full list appears below.
Arizona: Senior Oral Health Outreach (SOHO), Arizona Alliance for Community Health Centers, Asian Pacific Community in Action and Children's Action Alliance
Arkansas: School Based Health Alliance of Arkansas
California: Central Valley Health Policy Institute of California State University Fresno, California Primary Care Association, Los Angeles Trust for Children's Health, Asian Americans Advancing Justice – Los Angeles, California Pan-Ethnic Health Network, Children Now and Visión Y Compromiso
Colorado: Immigrant and Refugee Center of Northern Colorado, Colorado Community Health Network, University of Colorado School of Dental Medicine and Oral Health Colorado
Connecticut: Connecticut Oral Health Initiative (COHI) and Community Health Center Association of Connecticut, Inc.
Florida: Catalyst Miami and Florida Association of Community Health Centers
Hawaii: Hawaii Children's Action Network and Hawaii Public Health Institute
Idaho: Idaho Primary Care Association and Idaho Department of Health and Welfare
Illinois: American Dental Association and The Oral Health Forum
Indiana: Indiana Primary Care Association
Iowa: Lee Country Health Department
Kansas: Oral Health Kansas Inc., American Network of Oral Health Coalitions, Kansas Advocates for Better Care and Community Care Network of Kansas
Kentucky: Kentucky Youth Advocates and Kentucky Primary Care Association, Inc.
Louisiana: The Health Enrichment Network, EXCELth Inc. and Louisiana Primary Care Association
Maine: Maine Primary Care Association, Maine Oral Health Coalition and Maine Equal Justice Partners
Maryland: Mid-Atlantic Association of Community Health Center and Maryland Department of Health and Mental Hygiene (Office of Oral Health)
Massachusetts: Better Oral Health for Massachusetts Coalition Inc., Community Catalyst and Primary Care Progress
Michigan: Michigan Oral Health Coalition, United Health Organization and Health Net of West Michigan
Minnesota: Apple Tree Dental
Mississippi: Mississippi Oral Health Community Alliance (MOHCA) and Mississippi Dental Association Foundation
Missouri: Missouri Coalition for Oral Health and Missouri Primary Care Association
Montana: Montana Primary Care Association, Inc.
Nebraska: Nebraska Department of Health and Human Services and Health Center Association of Nebraska
Nevada: Future Smiles and ASTDD
New Hampshire: New Hampshire Public Health Association
New Jersey: American Academy of Pediatrics, NJ Chapter, New Jersey Primary Care Association and Advocates for Children of New Jersey
New York: Schuyler Center for Analysis and Advocacy and NYU College of Nursing
North Carolina: NC Child, ABC2 and NC Foundation for Health Leadership and Innovation
Ohio: Oral Health Ohio and Ohio Asian American Health Coalition
Oregon: Oregon Child Development Coalition
Oklahoma: Southern Plains Tribal Health Board and Oklahoma Primary Care Association
Pennsylvania: Put People First! Pennsylvania, Family First Health, and ACHIEVA/The Arc of Greater Pittsburgh
Rhode Island: Rhode Island Kids Count Inc. and Rhode Island Health Center Association
South Carolina: Medical University of South Carolina, South Carolina Primary Health Care Association and South Carolina Office of Rural Health
South Dakota: St Francis Mission Dental Clinic
Tennessee: Tennessee Dental Hygienists Association, Critical Learnings Systems, Inc. and Tennessee Primary Care Association
Texas: Texas Dental Association Smiles Foundation, Texas Oral Health Coalition, Texas Interfaith Center for Public Policy/Texas Impact Education Fund and South Plains Rural Health Services, Inc.
Utah: Utah Dental Hygienists' Association and Voices for Utah Children
Vermont: Southern Vermont Area Health Education Center
Virginia: Virginia Commonwealth University, Virginia Oral Health Coalition, United Way of Roanoke Valley, Smart Beginnings Virginia Peninsula and Harrison County Board of Education
West Virginia: Marshall University Research Corporation
Washington D.C.: Families USA, Justice in Aging, National Rural Health Association and Children's National Health System
Wisconsin: Children's Health Alliance of Wisconsin
Wyoming: Wyoming Primary Care Association
Review the DentaQuest Partnership's Q1 Grants Announcement