Please create an account to view this recorded webinar.
Create an account
Creating an account is easy. Click the button below to fill out the registration form. Your request will be reviewed and an email confirming your account will be sent within one business day.
Login to your account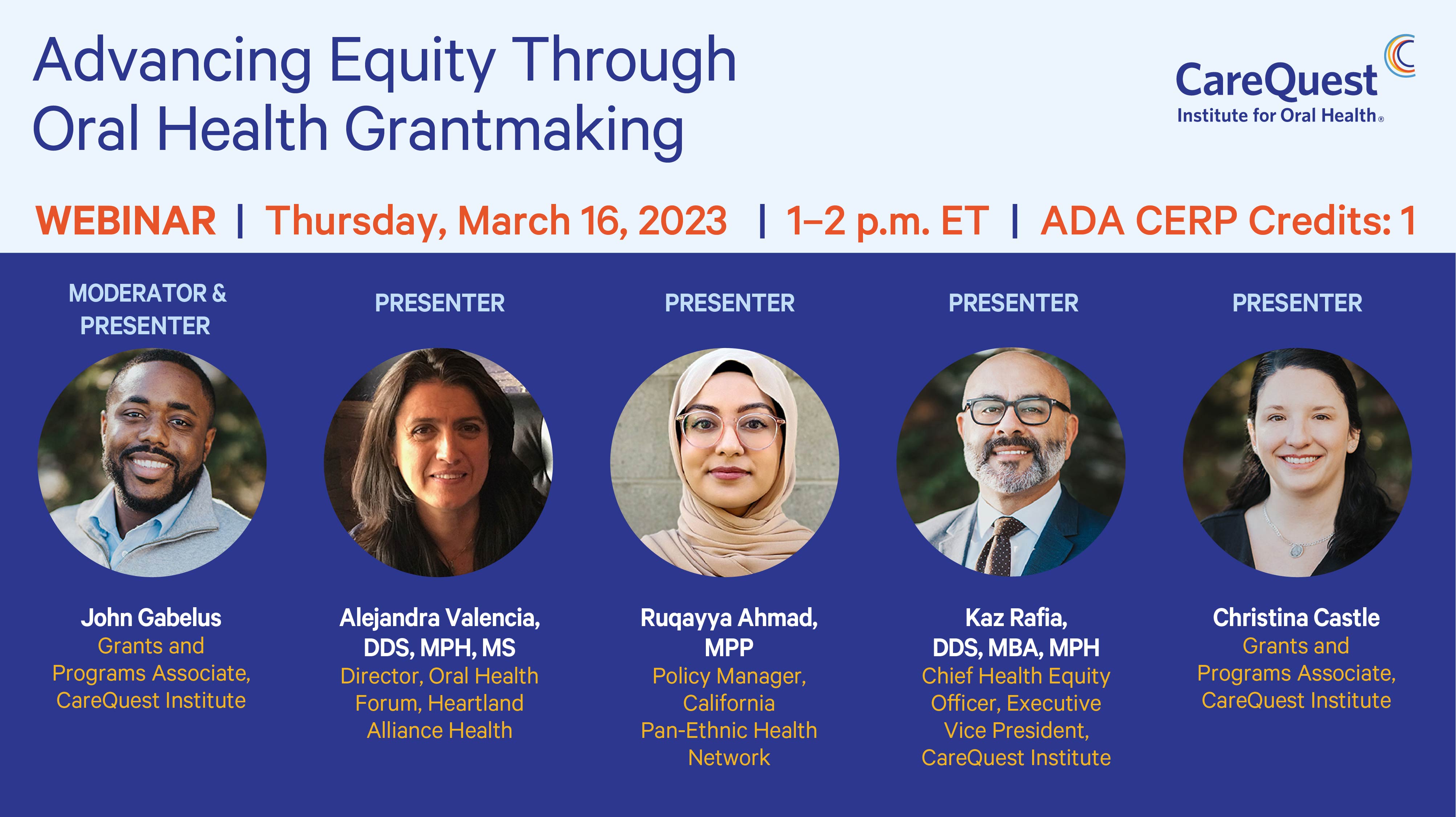 Description
Every year, CareQuest Institute awards more than $14 million in grants rooted in its commitment to health equity and the intentional engagement of communities most often harmed by the existing oral health system. How does that funding make a difference? How do grantees drive change in their communities?  
A panel of experts — including grantmaking leadership at CareQuest Institute and leaders from grantee organizations — will explore those questions in a one-hour webinar on Thursday, March 16 at 1 p.m. ET. We'll discuss how grantmaking plays a crucial role in improving oral health in historically marginalized communities, and how a community-driven approach can lead to more effective and sustainable outcomes. Participants will also learn about the grantee application process, including a short demonstration and answers to common questions.
Learning Objectives
Evaluate the importance of equity in philanthropy and its role in addressing oral health disparities and system inequities.  
Synthesize the impact of involving community voices and partnerships in the grantmaking process on promoting oral health equity.
Review outcomes of funding organizations led by members of marginalized and underserved communities in promoting health equity and justice.
Discuss one organization's commitment and experience engaging community members to advance oral health equity among marginalized groups in California.
Moderator & Presenter
John Gabelus, Grants and Programs Associate, CareQuest Institute for Oral Health
Presenters
Alejandra Valencia DDS, MPH, MS, Director, Oral Health Forum, Heartland Alliance Health  
Ruqayya Ahmad, MPP, Policy Manager, California Pan-Ethnic Health Network
Kaz Rafia, DDS, MBA, MPH, Chief Health Equity Officer, Executive Vice President, CareQuest Institute for Oral Health
Christina Castle, Grants and Programs Associate, CareQuest Institute for Oral Health
This webinar will be recorded.

CareQuest Institute for Oral Health is an ADA CERP Recognized Provider.
ADA CERP is a service of the American Dental Association to assist dental professionals in identifying quality providers of continuing dental education. ADA CERP does not approve or endorse individual courses or instructors, nor does it imply acceptance of credit hours by boards of dentistry. CareQuest Institute for Oral Health designates this activity for 1 continuing education credit.
This continuing education activity has been planned and implemented in accordance with the standards of the ADA Continuing Education Recognition Program (ADA CERP) by CareQuest Institute for Oral Health.
Participating instructor(s) in this program have disclosed that they have the following financial arrangement or affiliation with the listed corporate organization offering financial support or grant monies for or related to the content of this program/activity.
Alejandra Valencia DDS, MPH, MS,
Director, Oral Health Forum, Heartland Alliance Health, is a grantee of CareQuest Institute
Ruqayya Ahmad, MPP,
Policy Manager, California Pan-Ethnic Health Network, is a grantee of CareQuest Institute
John Gabelus
Grants and Programs Associate, CareQuest Institute for Oral Health
Kaz Rafia, DDS, MBA, MPH
Chief Health Equity Officer, Executive Vice President, CareQuest Institute for Oral Health
Christina Castle
Grants and Programs Associate, CareQuest Institute for Oral Health