Please create an account to view this recorded webinar.
Create an account
Creating an account is easy. Click the button below to fill out the registration form. Your request will be reviewed and an email confirming your account will be sent within one business day.
Login to your account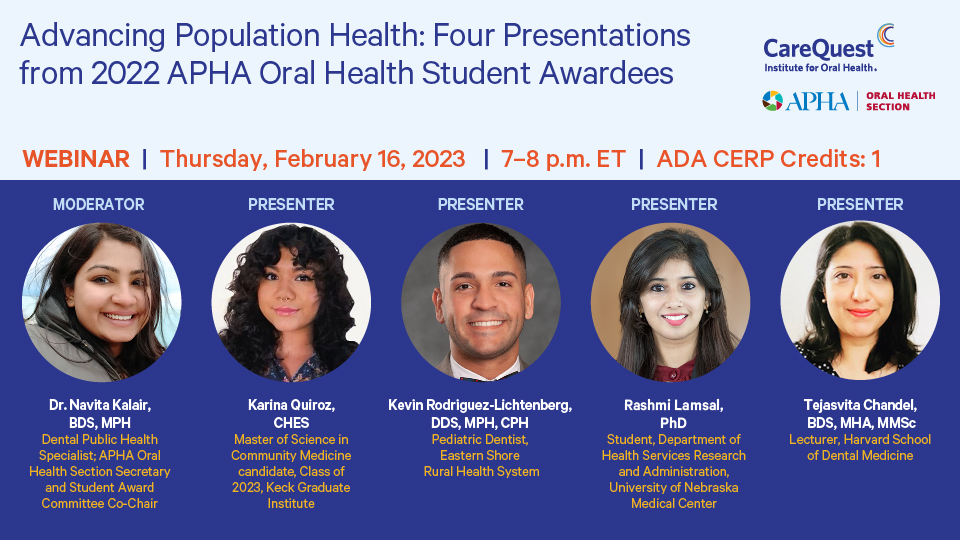 Description
CareQuest Institute for Oral Health, in collaboration with the American Public Health Association (APHA) Oral Health Section, presents a webinar that explores a mix of topics, including geriatric dental care, alternative payment mechanisms, the impact of paid sick leave on dental care, and dental disparities among working adults. Four winners of the Anthony Westwater Jong Population Oral Health Pre-Professional Award and the Caswell A. Evans Population Oral Health Post-Professional Award from APHA will share short presentations on these important population health-themed topics.  
Learning Objectives
Identify successful oral health promotion strategies for college students.
Explore current trends on knowledge and attitudes regarding alternative payment mechanisms in value-based care among dental providers.
Understand the current scope of geriatric dental training in rural health care settings.
Identify significant findings that oral health professionals and health system planners can consider to reduce dental disparities among working adults.
Examine the impact of paid sick leave on dental care utilization among working adults in the US.
Moderator
Dr. Navita Kalair, BDS, MPH, Dental Public Health Specialist; APHA Oral Health Section Secretary and Student Award Committee Co-Chair
Presenters
Karina Quiroz, CHES, Master of Science in Community Medicine Candidate, Class of 2023, Keck Graduate Institute  
Kevin Rodriguez-Lichtenberg, DDS, MPH, CPH - Pediatric Dentist, Eastern Shore Rural Health System  
Rashmi Lamsal, PhD, Student, Department of Health Services Research and Administration, University of Nebraska Medical Center  
Tejasvita Chandel, BDS, MHA, MMSc, Lecturer, Harvard School of Dental Medicine  
This webinar will be recorded.

CareQuest Institute for Oral Health is an ADA CERP Recognized Provider.
ADA CERP is a service of the American Dental Association to assist dental professionals in identifying quality providers of continuing dental education. ADA CERP does not approve or endorse individual courses or instructors, nor does it imply acceptance of credit hours by boards of dentistry. CareQuest Institute for Oral Health designates this activity for 1 continuing education credit.
This continuing education activity has been planned and implemented in accordance with the standards of the ADA Continuing Education Recognition Program (ADA CERP) by CareQuest Institute for Oral Health.
All participating instructors in this program have disclosed that they do not have any financial arrangement or affiliation with any commercial supporter, commercial products and/or provider of commercial services mentioned in this program/activity.