Please create an account to view this recorded webinar.
Create an account
Creating an account is easy. Click the button below to fill out the registration form. Your request will be reviewed and an email confirming your account will be sent within one business day.
Login to your account
PowerPoint Slide Download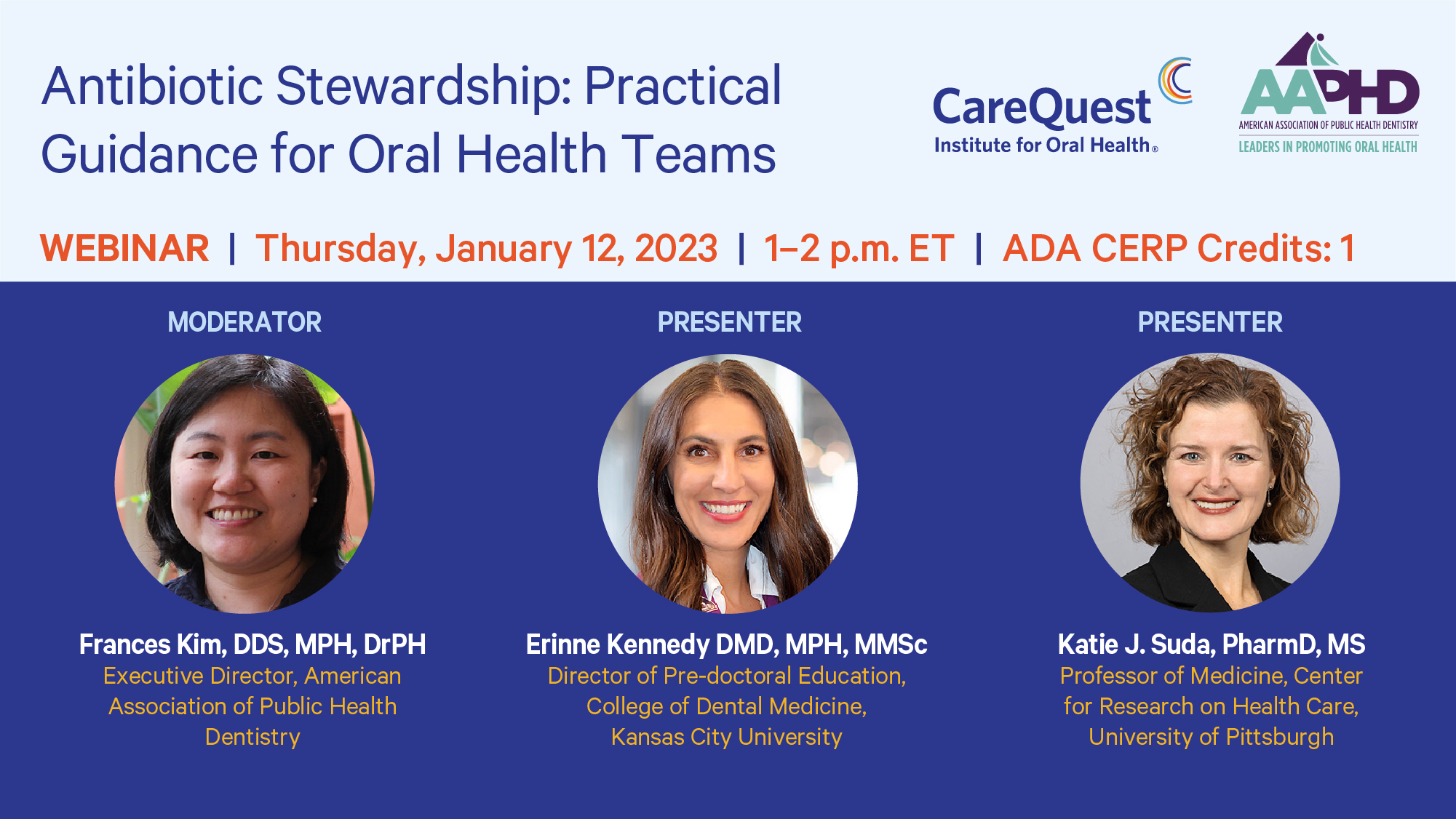 Description
Inappropriate use of antibiotics can lead to a myriad of negative outcomes: an increase in antibiotic resistance, adverse drug reactions, increased health care costs, and serious infections and health problems for patients. Dentists and oral health teams can — and need to be — part of the solution.  
Join CareQuest Institute and the American Association of Public Health Dentistry for a practical webinar on the importance and implementation of antibiotic stewardship in dentistry. Our well-known experts — including a professor of medicine and a dentist — will identify the risks of antibiotic prescribing and available tools that can aid clinicians. They'll also discuss patient safety and show the positive changes that can occur with the appropriate level of guidance.
Learning Objectives
Describe antibiotic prescribing by dentists in the United States.  
Identify the risks of antibiotic prescribing for dental indications and what tools are available for clinicians to aid prescribing.
Discuss the implementation and practice of antibiotic stewardship in dentistry.
Assess the impact of stewardship on appropriate antibiotic use and patient safety.
Moderator
Frances Kim, DDS, MPH, DrPH, Executive Director, American Association of Public Health Dentistry
Presenters
Erinne Kennedy, DMD, MPH, MMSc, Director of Pre-doctoral Education, College of Dental Medicine, Kansas City University
Katie J. Suda, PharmD, MS, Professor of Medicine, Center for Research on Health Care, University of Pittsburgh
This webinar will be recorded.

CareQuest Institute for Oral Health is an ADA CERP Recognized Provider.
ADA CERP is a service of the American Dental Association to assist dental professionals in identifying quality providers of continuing dental education. ADA CERP does not approve or endorse individual courses or instructors, nor does it imply acceptance of credit hours by boards of dentistry. CareQuest Institute for Oral Health designates this activity for 1 continuing education credit.
This continuing education activity has been planned and implemented in accordance with the standards of the ADA Continuing Education Recognition Program (ADA CERP) by CareQuest Institute for Oral Health.
All participating instructors in this program have disclosed that they have the following financial arrangement or affiliation with the listed persons or entity(ies) offering financial support, products, and/or services mentioned or related to the content of this program/activity. 
Erinne Kennedy DMD, MPH, MMSc
CDC Grant CK20-2003 Recipient
Katie J. Suda, PharmD, MS
VA, FDA, CDC, NIH, AHRQ