Please create an account to view this recorded webinar.
Create an account
Creating an account is easy. Click the button below to fill out the registration form. Your request will be reviewed and an email confirming your account will be sent within one business day.
Login to your account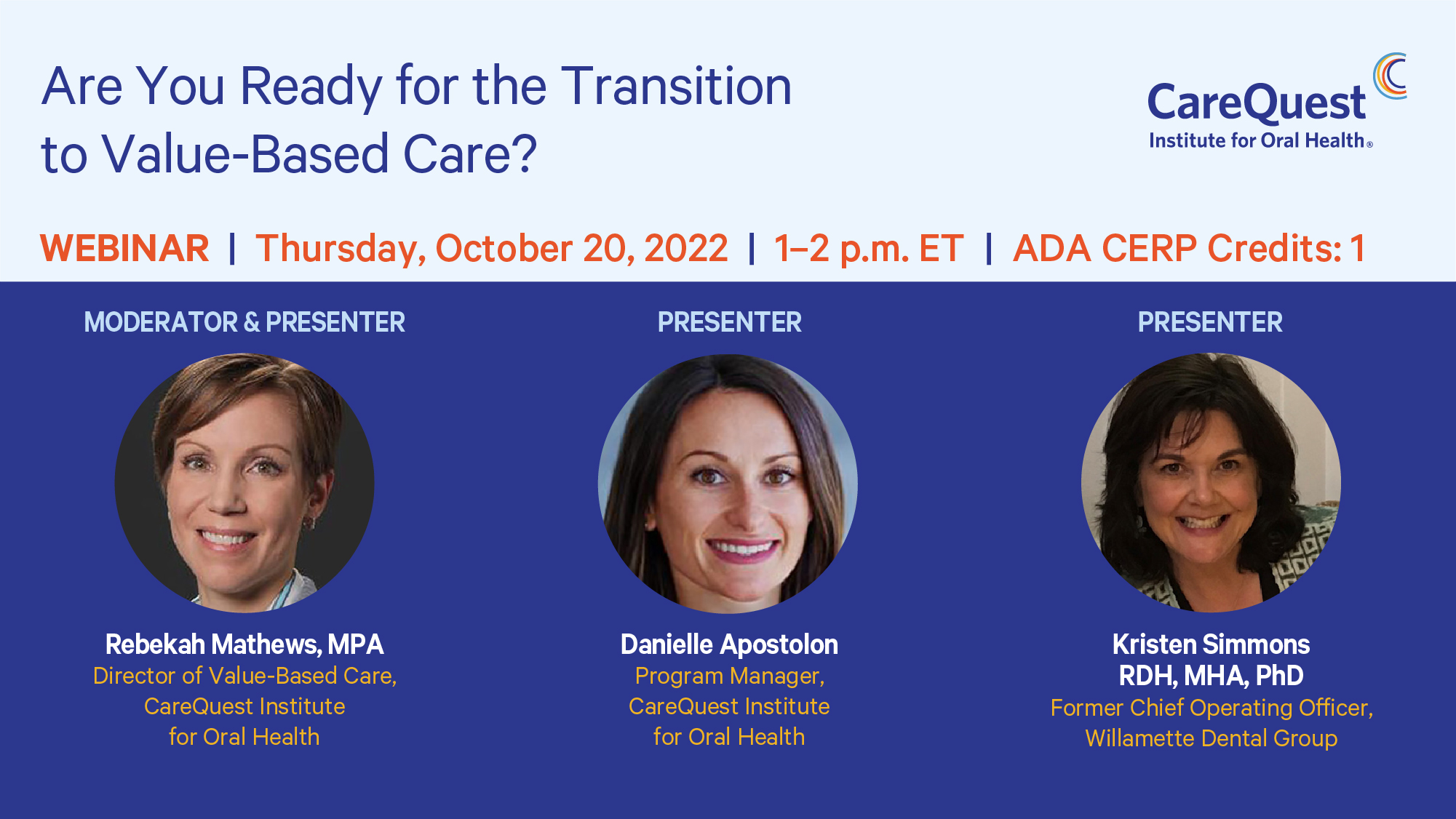 Description
The transition to a new model of care is coming — and now, it's coming fast.
Two decades in the making, we are now seeing the shift to value-based care (VBC) models accelerate, with CMS requiring health care providers to begin adopting systems that support value over volume, focus on health equity, and grow the patient populations covered under these models. Changes in regulations, reimbursement, and processes that affect health care providers (including dental providers) are coming into focus.
In this webinar, our expert panel will demonstrate how practice and organizational leaders can plan for the inevitable shift to VBC. They'll share key components of a VBC delivery model, a framework to guide the transition, and advice on how clinical and executive leadership can support their dental staff in understanding the concept, application, and the keys to success for the transition. Participants will benefit from the opportunity to participate in peer-to-peer, collaborative learning that will yield several useful VBC resources. 
Learning Objectives
Recognize the value — for patients and providers — of moving to a value-based care model.
Identify the clinical and operational processes that support a value-based care model in oral health.
Explain how leadership can support and plan for the implementation of a value-based care model.
Analyze resources and ideas to guide an organizational transition to value-based care.
Moderator & Presenter
Rebekah Mathews, MPA, Director of Value-Based Care, CareQuest Institute for Oral Health
Presenters
Danielle Apostolon, Program Manager, CareQuest Institute for Oral Health
Kristen Simmons, RDH, MHA, PhD, Former Chief Operating Officer, Willamette Dental Group 
This webinar will be recorded.

CareQuest Institute for Oral Health is an ADA CERP Recognized Provider.
ADA CERP is a service of the American Dental Association to assist dental professionals in identifying quality providers of continuing dental education. ADA CERP does not approve or endorse individual courses or instructors, nor does it imply acceptance of credit hours by boards of dentistry. CareQuest Institute for Oral Health designates this activity for 1 continuing education credit.
This continuing education activity has been planned and implemented in accordance with the standards of the ADA Continuing Education Recognition Program (ADA CERP) by CareQuest Institute for Oral Health.
All participating instructors in this program have disclosed that they have the following financial arrangement or affiliation with the listed persons or entity(ies) offering financial support, products, and/or services mentioned or related to the content of this program/activity.
Rebekah Mathews, MPA
Corporate Organization: CareQuest Institute
Danielle Apostolon
Corporate Organization: CareQuest Institute