Please create an account to view this recorded webinar.
Create an account
Creating an account is easy. Click the button below to fill out the registration form. Your request will be reviewed and an email confirming your account will be sent within one business day.
Login to your account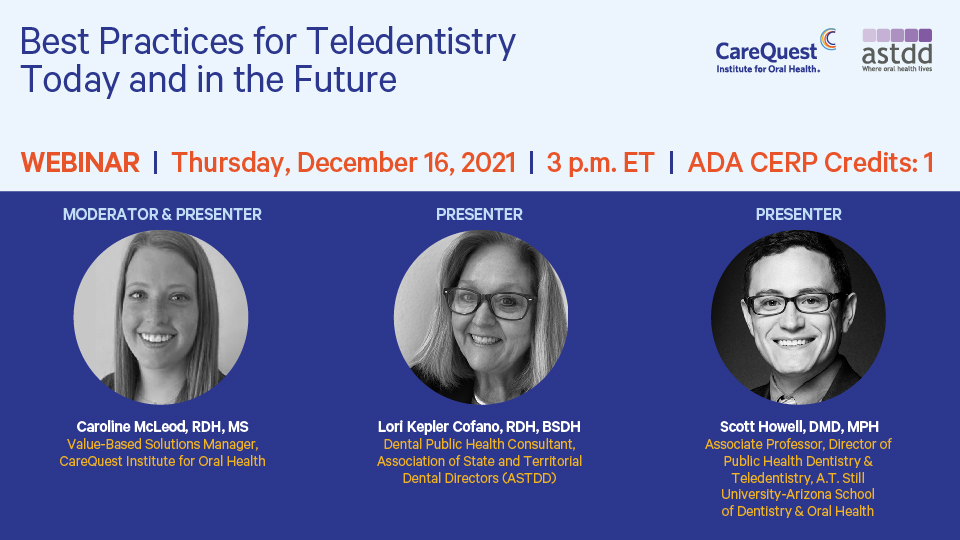 Description
During the last three decades, the use of teledentistry has expanded as dental providers have explored innovative ways to reach patients. In the last 18 months, the COVID-19 pandemic accelerated that expansion — revealing new and creative approaches. That increased awareness and use prompted the Association of State and Territorial Dental Directors to assemble a Best Practice Approach Report to explore next steps in ensuring widespread use of teledentistry.
In this webinar, the primary author and project members will present key takeaways for expanding the use of teledentistry, highlighting systems-level changes that need to occur. They'll also share the process they used to create the report and examine CareQuest Institute's strategic priorities around teledentistry that are helping to push the industry in new directions.
Learning Objectives:
Identify best practices that facilitate the delivery of oral health care using teledentistry.
Examine criteria to guide oral health stakeholders in developing their teledentistry best practices.
Describe the methodology for creating the teledentistry best practices report. 
Discuss CareQuest Institute's strategic priorities around teledentistry and how they will influence the industry.
Moderator:
Caroline McLeod, RDH, MS, Value-Based Solutions Manager, CareQuest Institute for Oral Health
Presenters:
Lori Kepler Cofano, RDH, BSDH, Dental Public Health Consultant, Association of State and Territorial Dental Directors (ASTDD)
Scott Howell, DMD, MPH, Associate Professor, Director of Public Health Dentistry & Teledentistry, A.T. Still University-Arizona School of Dentistry & Oral Health
This webinar will be recorded.
Disclosure of Relevant Financial Relationships:
Participating instructors in this program have disclosed that they have the following financial arrangement or affiliation with the listed corporate organization offering financial support or grant monies for or related to the content of this program/activity.
Lori Kepler Cofano, RDH, BSDH
Dental Public Health Consultant, Association of State and Territorial Dental Directors
Scott Howell, DMD, MPH
Consultant, Association of State and Territorial Dental Directors and MouthWatch, LLC