Please create an account to view this recorded webinar.
Create an account
Creating an account is easy. Click the button below to fill out the registration form. Your request will be reviewed and an email confirming your account will be sent within one business day.
Login to your account
PowerPoint Slide Download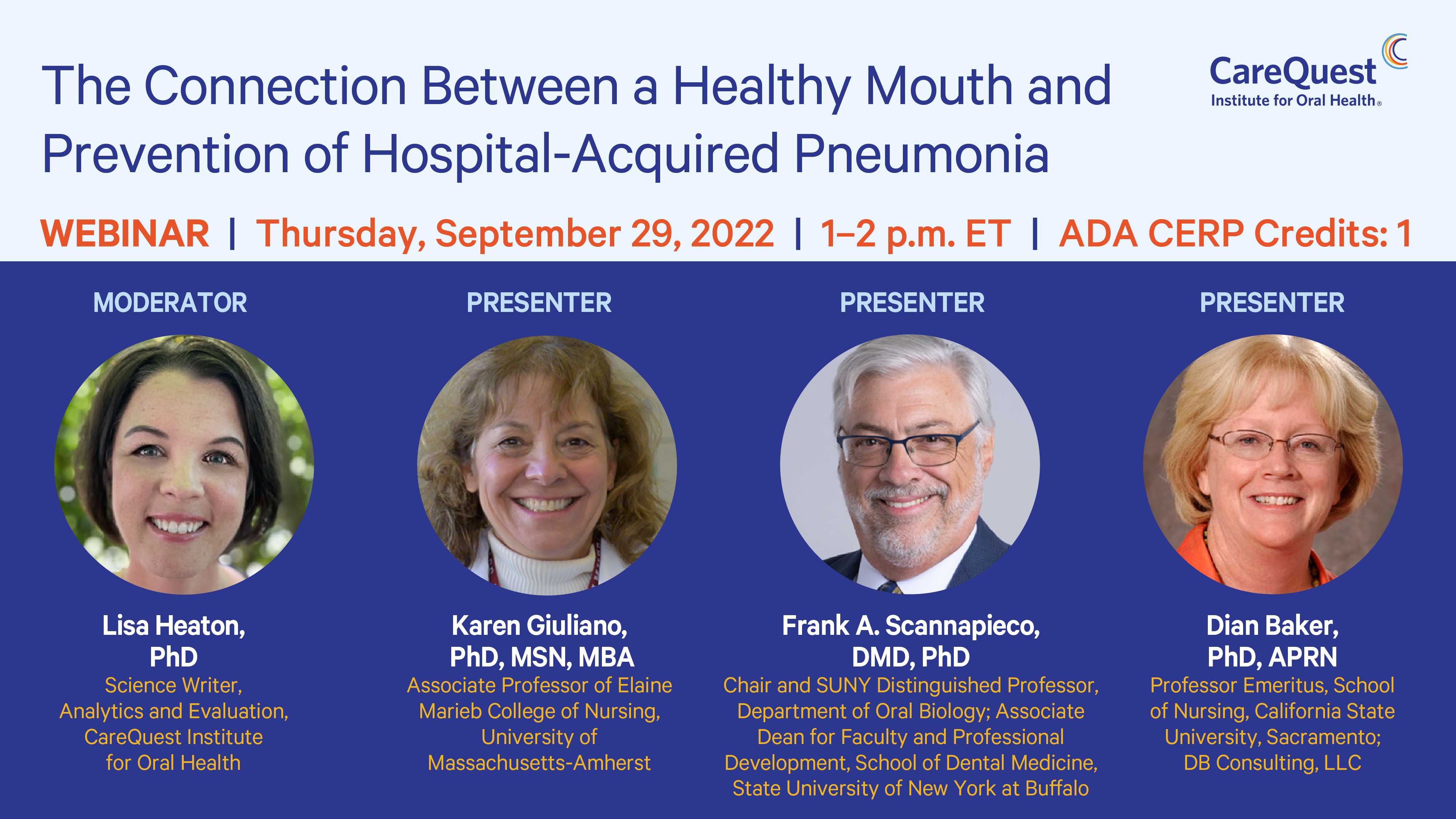 Description
There's an emerging body of evidence associating the use of comprehensive oral care with a reduction in nonventilator hospital-acquired pneumonia (NVHAP). And it's a critically important body of evidence, as NVHAP occurs in about 1 out of every 100 hospitalized patients and is associated with longer hospital stays, hospital readmissions, and increased health care costs.
Join a panel of experts to explore this research and the importance of the connection between healthy mouths and NVHAP. They'll share their personal experiences, the latest evidence, and practical guidance on how to integrate oral care into overall care. They'll also touch on the role of oral health care providers in a hospital setting and the importance of getting NVHAP added to CMS' Hospital-Acquired Condition Reduction Program.
Learning Objectives
Discuss the connection between preventive oral health care and nonventilator hospital-acquired pneumonia (NVHAP).
Recognize why it's critical to prevent NVHAP.
Identify the role oral health care providers should play in a hospital setting.
Explain the case for adding NVHAP to CMS' Hospital-Acquired Condition Reduction Program.
Discuss the benefits of integrating dental care and medical care.
Moderator
Lisa Heaton, PhD, Science Writer, Analytics and Evaluation, CareQuest Institute for Oral Health
Presenters
Karen Giuliano, PhD, MSN, MBA, Associate Professor of Elaine Marieb College of Nursing, University of Massachusetts-Amherst
Frank A. Scannapieco, DMD, PhD, Chair and SUNY Distinguished Professor, Department of Oral Biology and Associate Dean for Faculty and Professional Development, School of Dental Medicine, State University of New York at Buffalo
Dian Baker, PhD, APRN, Professor Emeritus, School of Nursing, California State University, Sacramento; DB Consulting, LLC

CareQuest Institute for Oral Health is an ADA CERP Recognized Provider.
ADA CERP is a service of the American Dental Association to assist dental professionals in identifying quality providers of continuing dental education. ADA CERP does not approve or endorse individual courses or instructors, nor does it imply acceptance of credit hours by boards of dentistry. CareQuest Institute for Oral Health designates this activity for 1 continuing education credit.
This continuing education activity has been planned and implemented in accordance with the standards of the ADA Continuing Education Recognition Program (ADA CERP) by CareQuest Institute for Oral Health.
All participating instructors in this program have disclosed that they have the following financial arrangement or affiliation with the listed persons or entity(ies) offering financial support, products, and/or services mentioned or related to the content of this program/activity.
Lisa J. Heaton, PhD
Corporate Organization: CareQuest Institute