Please create an account to view this recorded webinar.
Create an account
Creating an account is easy. Click the button below to fill out the registration form. Your request will be reviewed and an email confirming your account will be sent within one business day.
Login to your account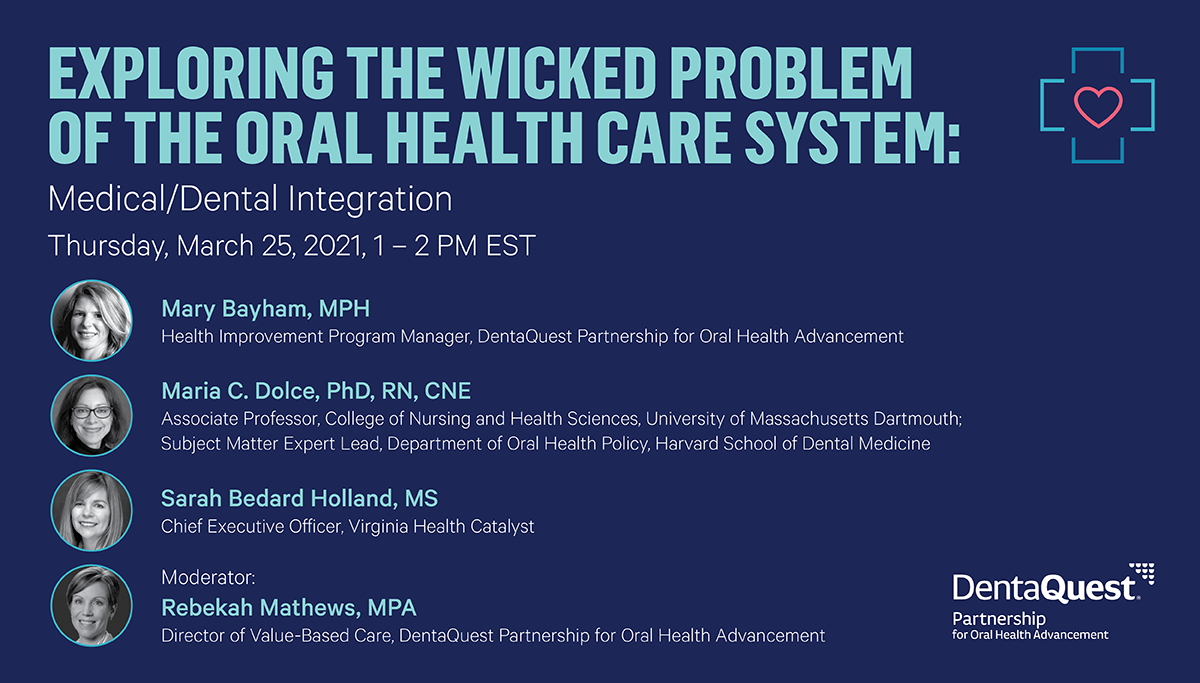 PowerPoint Slide Download
Improving the oral health care system is a wicked problem. A wicked problem is one that is complex, hard to define, involves multiple stakeholders and is interconnected with other problems. During this third in a series of webinars, we'll talk about research and experiences in promoting medical-dental integration. Content and panelists spotlighted during this webinar series were featured within a recent special issue of the Journal of Public Health Dentistry focusing on value-based oral health care.
Learning Objectives:
Apply findings from person‐centered care approaches linking oral health with primary preventive services through dentists, nurse practitioners and primary care practices
Describe how an oral health advocate evolved over time in taking a more holistic approach by effectively voicing oral health's role in overall health and well-being
Moderator:
Rebekah Mathews, MPA, Director of Value-based Care, DentaQuest Partnership for Oral Health Advancement ​
Presenters:
Mary Bayham, MPH, Health Improvement Program Manager, DentaQuest Partnership for Oral Health Advancement
Maria C. Dolce, PhD, RN, CNE, Associate Professor, College of Nursing and Health Sciences, University of Massachusetts Dartmouth; Subject Matter Expert Lead, Department of Oral Health Policy, Harvard School of Medicine
Sarah Bedard Holland, MS, Chief Executive Officer, Virginia Health Catalyst
Recording will be made available.