Please create an account to view this recorded webinar.
Create an account
Creating an account is easy. Click the button below to fill out the registration form. Your request will be reviewed and an email confirming your account will be sent within one business day.
Login to your account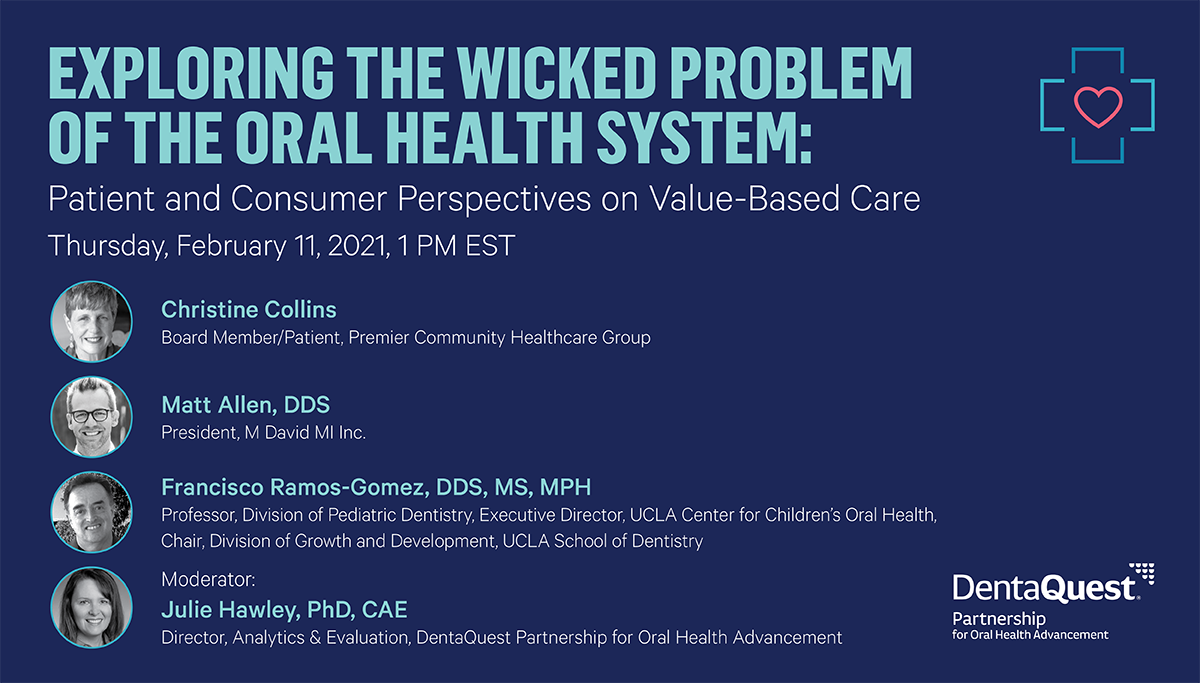 PowerPoint Slide Download
Improving the oral health care system is a wicked problem. A wicked problem is one that is complex, hard to define, involves multiple stakeholders and is interconnected with other problems. During this second in a series of webinars, we'll talk about patient and consumer perspectives as we continue to explore efforts being made to reach a future state of oral health care that is equitable and value-based. Content and panelists spotlighted during this webinar series are featured within a recent special issue of the Journal of Public Health Dentistry focusing on value-based oral health care.
Learning Objectives:
Understand the role of shared decision making in person-centered, value-based oral health care
Learn about a prevention-focused, value-based strategy that leverages monetary incentives to motivate healthy behavior
Understand the value of preventive care from the patient's perspective
Presenters:
Christine Collins, Board Member/ Patient, Premier Community Healthcare Group
Matt Allen, DDS, President, M David MI Inc.
Francisco Ramos-Gomez, DDS, MS, MPH, Professor, Division of Pediatric Dentistry, Executive Director, UCLA Center for Children's Oral Health, Chair, Division of Growth and Development, UCLA School of Dentistry
Julie Hawley, Ph.D., CAE, Director, Analytics & Evaluation, DentaQuest Partnership for Oral Health Advancement
Recording will be made available.