Please create an account to view this recorded webinar.
Create an account
Creating an account is easy. Click the button below to fill out the registration form. Your request will be reviewed and an email confirming your account will be sent within one business day.
Login to your account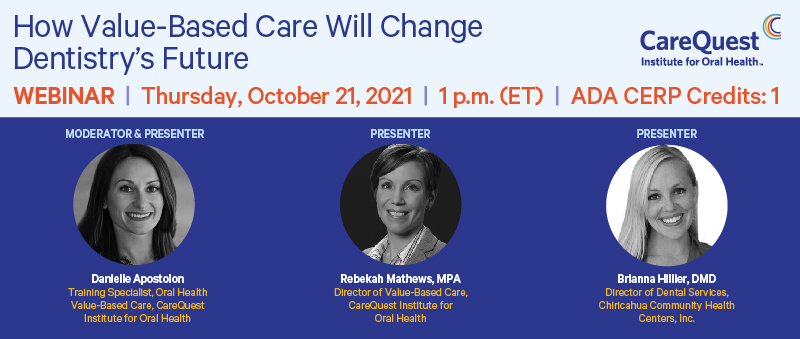 Description
The future of oral health is coming — and value-based care holds many of the keys to success.
For more than two centuries, dentists have practiced in a fee-for-service reimbursement environment. Workflow, care delivery, business plan, staffing, documentation, health information technology, policies and procedures, and communication have all been designed and implemented around a care and financing model that emphasizes volume over value. But now, government regulations and a growing desire to provide better, more personalized care for patients is driving necessary changes.
Join us as we discuss the foundations of value-based care and the dental processes and procedures that are ripe for change. We'll also explore CareQuest Institute's Three Domain Framework that proposes a new model for dentistry and a case study of what a patient journey can look like when we prioritize value over volume.
Learning Objectives:
Explain the principles of value-based care.
Identify the components of CareQuest Institute's Three Domain Framework.
Discuss how the COVID-19 pandemic highlighted the strengths of value-based care models.
Explain how clinical data can inform population-based care decisions.
Recognize how creating community-based interventions that focus on prevention and disease management can improve health outcomes.
Moderator & Presenter:
Danielle Apostolon, Training Specialist, Oral Health Value-Based Care, CareQuest Institute for Oral Health
Presenters:
Rebekah Mathews, MPA, Director of Value-Based Care, CareQuest Institute for Oral Health
Brianna Hillier, DMD, Director of Dental Services, Chiricahua Community Health Centers, Inc.
Disclosure of Relevant Financial Relationships:
All participating instructors in this program have disclosed that they do not have any financial arrangement or affiliation with any commercial supporter, commercial products and/or provider of commercial services mentioned in this program/activity.
CareQuest Institute for Oral Health is an ADA CERP Recognized Provider. ADA CERP is a service of the American Dental Association to assist dental professionals in identifying quality providers of continuing dental education. ADA CERP does not approve or endorse individual courses or instructors, nor does it imply acceptance of credit hours by boards of dentistry. CareQuest Institute for Oral Health designates this activity for 1 continuing education credit.
A recording will be made available.