Please create an account to view this recorded webinar.
Create an account
Creating an account is easy. Click the button below to fill out the registration form. Your request will be reviewed and an email confirming your account will be sent within one business day.
Login to your account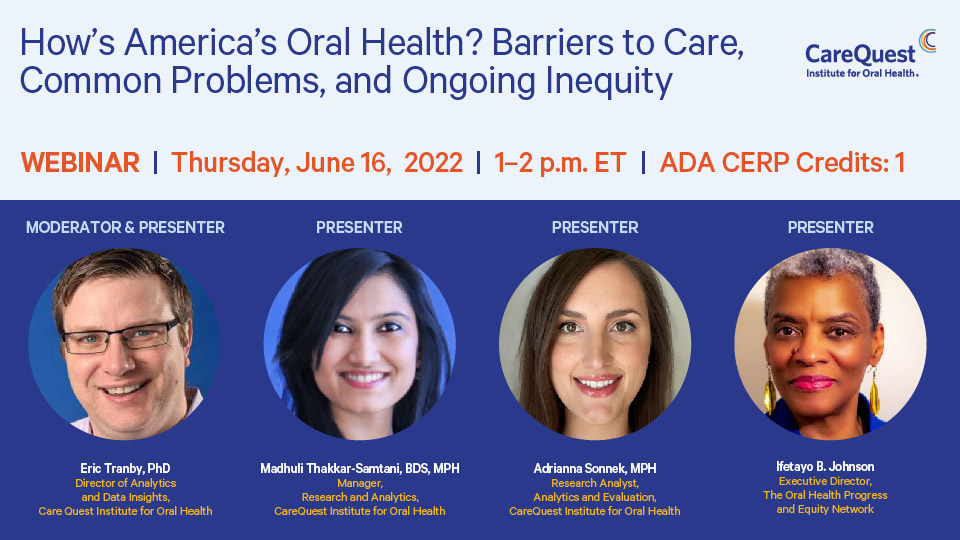 Description
Louder calls for medical-dental integration. The role of cost as a deterrent to care. Expanding inequities across the system.
Earlier this year, CareQuest Institute conducted the second annual State of Oral Health Equity in America survey ― a nationally representative survey of 5,682 adults to study knowledge, attitudes, experiences, and behaviors related to oral health ― and uncovered valuable and worrying insights about the state of the industry. In this webinar, three researchers behind the work will dive into the findings to explore how oral health has changed in the last year and share data that will inform future advocacy, policy, technology advancement, and clinical endeavors. They'll also share what surprised them about the research. They'll then pose questions to a leading oral health advocate — OPEN Network Executive Director Ifetayo Johnson — to discuss how the research will shape work in the industry in the months ahead.
Learning Objectives
Explain the value and process of creating a nationally representative survey on oral health.
Identify at least three noteworthy findings from the State of Oral Health Equity survey.
Recognize the challenges many subpopulations (e.g., individuals of color, uninsured, and veterans) face when trying to access oral health.
Discuss how consumer perceptions of oral health can influence advocacy, policy, technology, and clinical practice.
Moderator and Presenter
Eric Tranby, PhD, Director of Analytics and Data Insights, Care Quest Institute for Oral Health
Presenters
Madhuli Thakkar-Samtani, BDS, MPH, Manager, Research and Analytics, CareQuest Institute for Oral Health
Adrianna Sonnek, MPH, Research Analyst, CareQuest Institute for Oral Health
Ifetayo B. Johnson, Executive Director, The Oral Health Progress and Equity Network
This webinar will be recorded.

CareQuest Institute for Oral Health is an ADA CERP Recognized Provider.
ADA CERP is a service of the American Dental Association to assist dental professionals in identifying quality providers of continuing dental education. ADA CERP does not approve or endorse individual courses or instructors, nor does it imply acceptance of credit hours by boards of dentistry. CareQuest Institute for Oral Health designates this activity for 1 continuing education credit.
This continuing education activity has been planned and implemented in accordance with the standards of the ADA Continuing Education Recognition Program (ADA CERP) by CareQuest Institute for Oral Health.
All participating instructors in this program have disclosed that they have the following financial arrangement or affiliation with the listed persons or entity(ies) offering financial support, products, and/or services mentioned or related to the content of this program/activity.
Eric Tranby, PhD
Corporate Organization: CareQuest Institute
Madhuli Thakkar-Samtani, BDS, MPH
Corporate Organization: CareQuest Institute
Adrianna Sonnek, MPH
Corporate Organization: CareQuest Institute
Ifetayo Johnson
Corporate Organization: Oral Health Progress and Equity Network