Please create an account to view this recorded webinar.
Create an account
Creating an account is easy. Click the button below to fill out the registration form. Your request will be reviewed and an email confirming your account will be sent within one business day.
Login to your account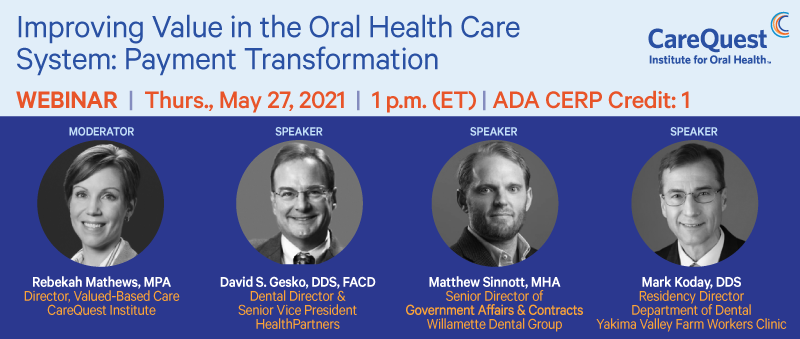 Description
Improving the oral health care system is a wicked problem. A wicked problem is one that is complex, hard to define, involves multiple stakeholders, and is interconnected with other problems. During this final webinar in the series, we'll talk about the operational evolution to value-based care and financing with three seasoned administrators who will share recommendations and lessons they've learned in leading transformation within their clinical settings. The content and panelists spotlighted during this webinar series are also featured within a recent special issue of the Journal of Public Health Dentistry focusing on value-based oral health care.
Learning Objectives:
Understand how dental practices can apply the Triple Aim as their "new definition of quality".
Recognize opportunities within transforming the reimbursement model connecting to salary and practice operations.
Understand the importance of clinically-driven leadership, strong collaborative engagement, and complete investment between executive leadership, clinical operations, and care teams to foster trust and buy-in.
Understand why the current dental delivery system is not serving our underserved populations well and what may work better.
Moderator:
Rebekah Mathews, MPA, Director of Value-Based Care, CareQuest Institute for Oral Health
Speakers:
David S. Gesko, DDS, FACD, Dental Director & Senior Vice President, HealthPartners
Matthew Sinnott, MHA, Senior Director of Government Affairs & Contracts, Willamette Dental Group
Mark Koday, DDS, Residency Director, Yakima Valley Farm Workers Clinic
Recording will be made available.