Please create an account to view this recorded webinar.
Create an account
Creating an account is easy. Click the button below to fill out the registration form. Your request will be reviewed and an email confirming your account will be sent within one business day.
Login to your account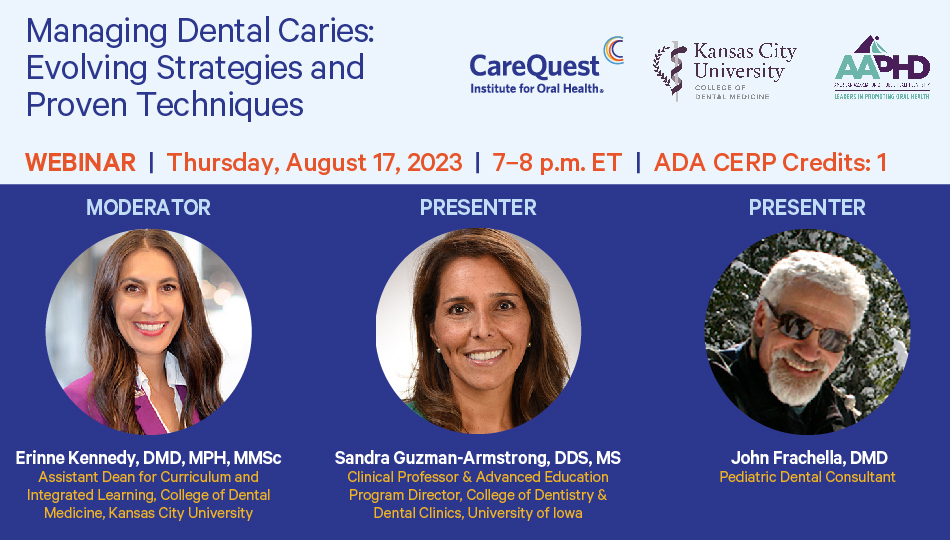 Description
What we know about cariology continues to evolve. New evidence, new treatments, and new innovations shape the way dental teams manage the disease.
How can providers apply this knowledge to provide personalized prevention recommendations for patients?
In this webinar, a collaboration between CareQuest Institute, Kansas City University, and the American Association of Public Health Dentistry (AAPHD), our expert panel will explore that question and various strategies for managing dental caries. They will also talk about avoiding a "one-size-fits-all" approach, sharing guidance on nonsurgical and nonrestorative protocols and implementation.
This is the third in a series of summer webinars on understanding, assessing, and managing caries.
Learning Objectives
Analyze various strategies for managing caries: screening, prevention, and nonrestorative treatment, including minimally invasive care.
Identify the risks, benefits, alternatives, and mechanisms of action for current preventive chemotherapeutics used to prevent or treat caries in a nonrestorative way. 
Discuss the practice of personalized prevention recommendations for patients.
Moderator
Erinne Kennedy, DMD, MPH, MMSc, Assistant Dean for Curriculum and Integrated Learning, College of Dental Medicine, Kansas City University
Presenter
Sandra Guzman-Armstrong, DDS, MS, Clinical Professor & Advanced Education Program Director, College of Dentistry & Dental Clinics, University of Iowa
John Frachella, DMD, Pediatric Dental Consultant
This webinar will be recorded.

CareQuest Institute for Oral Health is an ADA CERP Recognized Provider.
ADA CERP is a service of the American Dental Association to assist dental professionals in identifying quality providers of continuing dental education. ADA CERP does not approve or endorse individual courses or instructors, nor does it imply acceptance of credit hours by boards of dentistry. CareQuest Institute for Oral Health designates this activity for 1 continuing education credit.
This continuing education activity has been planned and implemented in accordance with the standards of the ADA Continuing Education Recognition Program (ADA CERP) by CareQuest Institute for Oral Health.
Participating instructor(s) in this program have disclosed that they have the following financial arrangement or affiliation with the listed corporate organization offering financial support or grant monies for or related to the content of this program/activity.
Erinne Kennedy DMD, MPH, MMSc,
CDC Grant CK20-2003 Recipient, HRSA ENRICH Grant
HRSA THRIVE Grant
Kansas City University College of Dental Medicine
Centers for Disease Control and Prevention