Please create an account to view this recorded webinar.
Create an account
Creating an account is easy. Click the button below to fill out the registration form. Your request will be reviewed and an email confirming your account will be sent within one business day.
Login to your account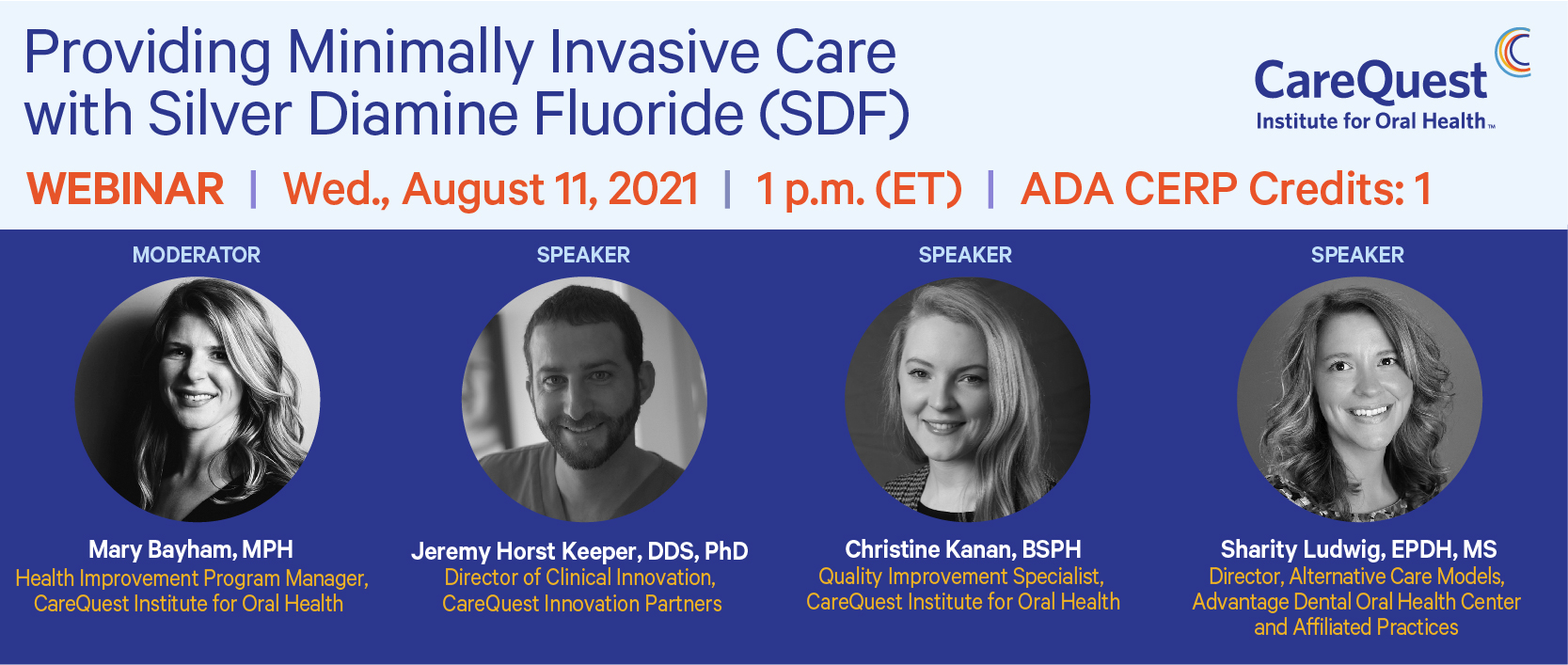 Description
Silver diamine fluoride (SDF) has been widely recognized as an effective noninvasive tool used for the prevention and management of dental caries. And it has proven to be an invaluable tool during the COVID-19 pandemic. This webinar will explore the science behind silver diamine fluoride, best practices for use today and in the future, and the challenges of incorporating it into practice. Participants will also hear about one practice group's experience with SDF and gain the knowledge to apply those lessons in their own settings.
Learning Objectives:
Explain how silver diamine fluoride (SDF) works.
Identify the best practices and challenges of incorporating SDF into practice.
Recognize why SDF was especially effective during the COVID-19 pandemic.
Discuss lessons learned and outcomes from using SDF on patients in a group of community dental clinics.
Moderator:
Mary Bayham, MPH, Health Improvement Program Manager, CareQuest Institute for Oral Health
Presenters:
Jeremy Horst Keeper, DDS, PhD, Director of Clinical Innovation, CareQuest Innovation Partners
Christine Kanan, BSPH, Quality Improvement Specialist, CareQuest Institute for Oral Health
Sharity Ludwig, EPDH, MS, Director, Alternative Care Models, Advantage Dental Oral Health Center and Affiliated Practices
CareQuest Institute for Oral health is an ADA CERP Recognized Provider.
ADA CERP is a service of the American Dental Association to assist dental professionals in identifying quality providers of continuing dental education. ADA CERP does not approve or endorse individual courses or instructors, nor does it imply acceptance of credit hours by boards of dentistry.

CareQuest Institute for Oral health designates this activity for 1 continuing education credit.