Please create an account to view this recorded webinar.
Create an account
Creating an account is easy. Click the button below to fill out the registration form. Your request will be reviewed and an email confirming your account will be sent within one business day.
Login to your account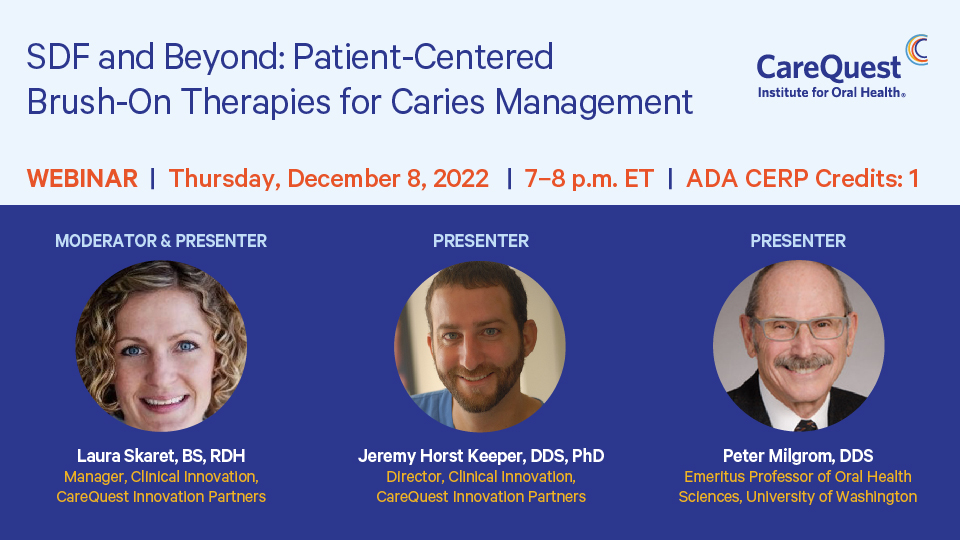 Description
Minimally invasive care (MIC) in dentistry is an alternative to the traditional surgical manner of managing and treating dental caries. MIC, which aims to keep teeth functional throughout a person's lifespan by preserving natural tooth structure, has evolved rapidly since silver diamine fluoride (SDF) was introduced in the United States in 2015. More change is on the way.  
Along with SDF, which is becoming more popular, MIC has grown to include non-staining peptide-guided enamel regeneration P11-4 and povidone-iodine. In this webinar, our expert panel will explore these minimally invasive therapies and how to offer them based on patient needs. They'll also discuss how to empower oral health teams to use them to provide patient-centered care and how to navigate future advancements. 
Learning Objectives
Explain how silver diamine fluoride, povidone iodine, and peptide-guided enamel regeneration are effective for caries management. 
Select appropriate brush-on caries management therapies, including silver diamine fluoride, povidone iodine, and peptide-guided enamel regeneration based on patient characteristics.  
Review the clinical evidence supporting minimally invasive techniques for caries management.
Demonstrate application techniques for minimally invasive dentistry interventions. 
Moderator & Presenter
Laura Skaret, BS, RDH, Manager, Clinical Innovation, CareQuest Innovation Partners
Presenters
Jeremy Horst Keeper, DDS, PhD, Director, Clinical Innovation, CareQuest Innovation Partners
Peter Milgrom, DDS, Emeritus Professor of Oral Health Sciences, University of Washington
This webinar will be recorded.

CareQuest Institute for Oral Health is an ADA CERP Recognized Provider.
ADA CERP is a service of the American Dental Association to assist dental professionals in identifying quality providers of continuing dental education. ADA CERP does not approve or endorse individual courses or instructors, nor does it imply acceptance of credit hours by boards of dentistry. CareQuest Institute for Oral Health designates this activity for 1 continuing education credit.
This continuing education activity has been planned and implemented in accordance with the standards of the ADA Continuing Education Recognition Program (ADA CERP) by CareQuest Institute for Oral Health.
CareQuest Innovation Partners has financial and/or investment relationships with companies that market a noninvasive caries therapy, a brush-on caries diagnostic, an intraoral camera, a teledentistry platform, portable geriatric dentistry, and possibly other relevant products by the time of this talk, in support of its mission to improve oral health for all.
This material is presented for dental professionals or health care professionals with oral health training and is not intended to educate or train professionals on how to diagnose conditions or disease states.
Dr. Milgrom is a principal in Dental Silver Arrest LLC, a small business firm created to develop, research, and gain FDA approval for new preventive agents
This presentation will include discussion of the off-label use of FDA cleared medical devices or approved drugs.