Please create an account to view this recorded webinar.
Create an account
Creating an account is easy. Click the button below to fill out the registration form. Your request will be reviewed and an email confirming your account will be sent within one business day.
Login to your account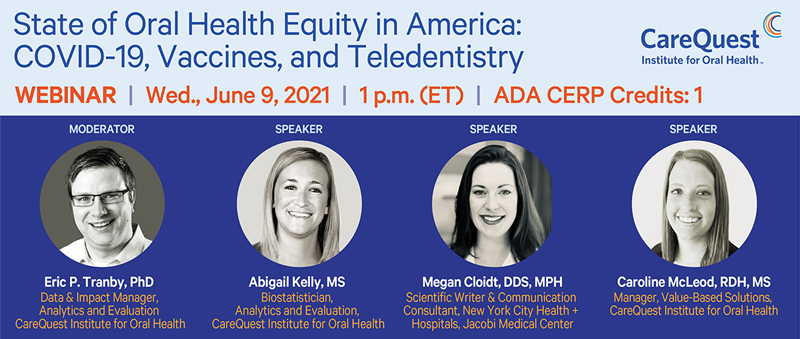 Description
CareQuest Institute for Oral Health designed and commissioned a survey in early 2021 to understand Americans' attitudes, experiences, and behaviors on oral health care during COVID-19. This webinar is the first of two webinars that focuses on the findings from the survey around oral health inequities, COVID-19 vaccination efforts by oral health care providers, and teledentistry experiences and access. We will present opportunities and solutions, both immediately and long term, to help those that are most disproportionally affected by the pandemic.

Learning Objectives:
Understand the national findings and trends on the impact of COVID-19 on the oral health access, symptoms, and coverage.
Recognize why dentists are an untapped resource for COVID-19 vaccination and how they can be utilized in primary prevention efforts.
Understand the emerging opportunities teledentistry can provide for those with a lack of access to care beyond COVID-19.
Discuss strategies being planned and implemented, both short and long term, to address inequities in oral health care and access.
Moderator:
Eric P. Tranby, PhD, Data & Impact Manager, Analytics & Evaluation, CareQuest Institute for Oral Health
Presenters:
Abigail Kelly, MS, Biostatistician, Analytics and Evaluation, CareQuest Institute for Oral Health
Megan Cloidt, DDS, MPH, Scientific Writer & Communication Consultant, New York City Health + Hospitals, Jacobi Medical Center
Caroline McLeod, RDH, MS, Manager, Value-Based Solutions, CareQuest Institute for Oral Health
Recording will be made available.