Please create an account to view this recorded webinar.
Create an account
Creating an account is easy. Click the button below to fill out the registration form. Your request will be reviewed and an email confirming your account will be sent within one business day.
Login to your account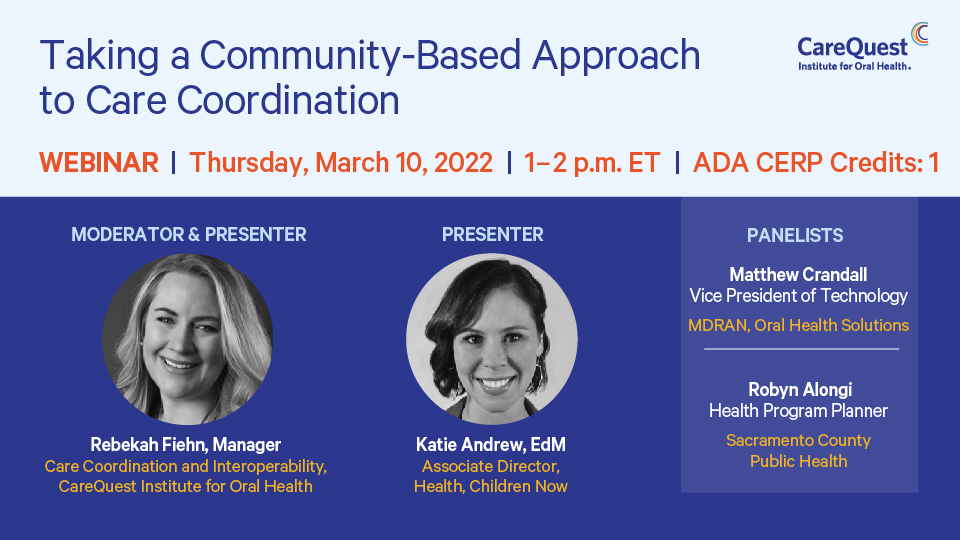 Description
Care coordination involves ensuring that all providers caring for a patient have access to the same information and can communicate seamlessly with one another. That coordination is critical to providing the right care, in the right place, at the right time.
That coordination is also difficult to achieve — especially in the oral health system.
This webinar will showcase a promising solution, featuring the work of the Medical-Dental Partnership pilot of Every Smile Counts! The pilot, organized by Children Now, developed the Medical Dental Referral and Navigation (MDRAN) system, which facilitates and tracks dental referrals and supports coordinated care using a community-based approach. Participants will learn more about the value of oral health care coordination and hear from Children Now about its work to improve dental care for children in California.
Learning Objectives:
Explain the value of coordinating care within oral health.
Discuss the challenges and benefits of using a community-based approach to improve care coordination.
Recognize the benefits of participating in local interprofessional oral health networks.
Moderator and Presenter:
Rebekah Fiehn, Manager, Care Coordination and Interoperability, CareQuest Institute for Oral Health
Presenter:
Katie Andrew, EdM, Associate Director, Health, Children Now
Panelists:
Matthew Crandall, Vice President of Technology, MDRAN, Oral Health Solutions
Robyn Alongi, Health Program Planner, Sacramento County Public Health
This webinar will be recorded.

CareQuest Institute for Oral Health is an ADA CERP Recognized Provider.
ADA CERP is a service of the American Dental Association to assist dental professionals in identifying quality providers of continuing dental education. ADA CERP does not approve or endorse individual courses or instructors, nor does it imply acceptance of credit hours by boards of dentistry. CareQuest Institute for Oral Health designates this activity for 1 continuing education credit.
This continuing education activity has been planned and implemented in accordance with the standards of the ADA Continuing Education Recognition Program (ADA CERP) by CareQuest Institute for Oral Health.
Participating instructor(s) in this program have disclosed that they have the following financial arrangement or affiliation with the listed corporate organization offering financial support or grant monies for or related to the content of this program/activity.
Katie Andrew, EdM, Children Now
Children Now is a grantee of CareQuest Institute