Please create an account to view this recorded webinar.
Create an account
Creating an account is easy. Click the button below to fill out the registration form. Your request will be reviewed and an email confirming your account will be sent within one business day.
Login to your account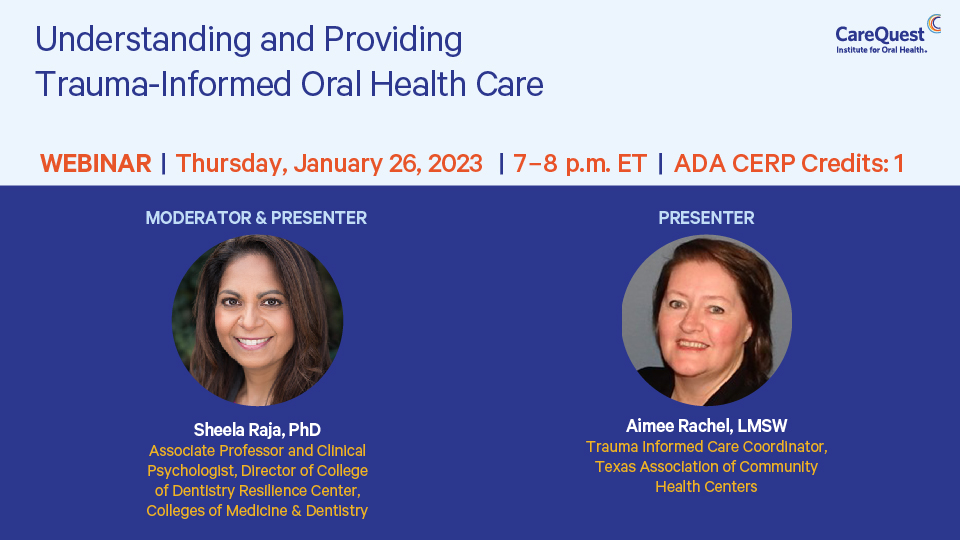 Description
According to the CDC, a quarter of all children in the United States have experienced some sort of maltreatment (physical, sexual, or emotional abuse), and a similar percentage of women have suffered domestic violence. For those individuals — and others outside of the statistics — a medical or dental exam can feel invasive. How can oral health providers recognize and respond to the signs, symptoms, and risks of trauma to better support the needs of patients?  
Join CareQuest Institute for a webinar that will explore that question and practical ways providers can implement trauma-informed strategies in their oral health practice. Our expert panel will discuss how trauma history can impact engagement in oral health care, the benefits of a universal approach to trauma precautions, and strategies to sensitively interact with trauma survivors.
Learning Objectives
Recognize how historically underrepresented and marginalized populations may be impacted by violence and trauma.  
Discuss how trauma and toxic stress are related to high-risk coping and health outcomes.
Explain at least one strategy to employ when interacting with a trauma survivor in an oral health setting.
Apply universal trauma precautions to clinical situations.
Moderator & Presenter
Sheela Raja, PhD, Associate Professor and Clinical Psychologist, Director of College of Dentistry Resilience Center, Colleges of Medicine & Dentistry, University of Illinois Chicago
Presenter
Aimee Rachel, LMSW, Trauma Informed Care Coordinator, Texas Association of Community Health Centers 
This webinar will be recorded.

CareQuest Institute for Oral Health is an ADA CERP Recognized Provider.
ADA CERP is a service of the American Dental Association to assist dental professionals in identifying quality providers of continuing dental education. ADA CERP does not approve or endorse individual courses or instructors, nor does it imply acceptance of credit hours by boards of dentistry. CareQuest Institute for Oral Health designates this activity for 1 continuing education credit.
This continuing education activity has been planned and implemented in accordance with the standards of the ADA Continuing Education Recognition Program (ADA CERP) by CareQuest Institute for Oral Health.
All participating instructors in this program have disclosed that they do not have any financial arrangement or affiliation with any commercial supporter, commercial products and/or provider of commercial services mentioned in this program/activity.