Medical Oral Expanded Care
(MORE Care)

MORE Care is an initiative of CareQuest Institute that aims to integrate oral health competencies and capabilities into primary care offices while building patient-centered referral networks with local dental providers using health information technology. As we move into a new era of health care, MORE Care provides the framework to help clinics achieve a more comprehensive approach to health care.
The MORE Care Process
Using a Breakthrough Series Collaborative model, MORE Care works within communities to establish interprofessional oral health networks (IPOHNs) to integrate person-centered oral health care.
The MORE Care project team focuses first on assisting the medical practices in developing the skills and adopting the processes necessary to integrate oral health services into their existing workflows. Medical practices then work to implement health information technology solutions, which enable electronic referral communication to dental practices.
MORE Care provides an adaptable framework, so communities can make modifications based on their specific needs. This allows for the creation of localized solutions within each system.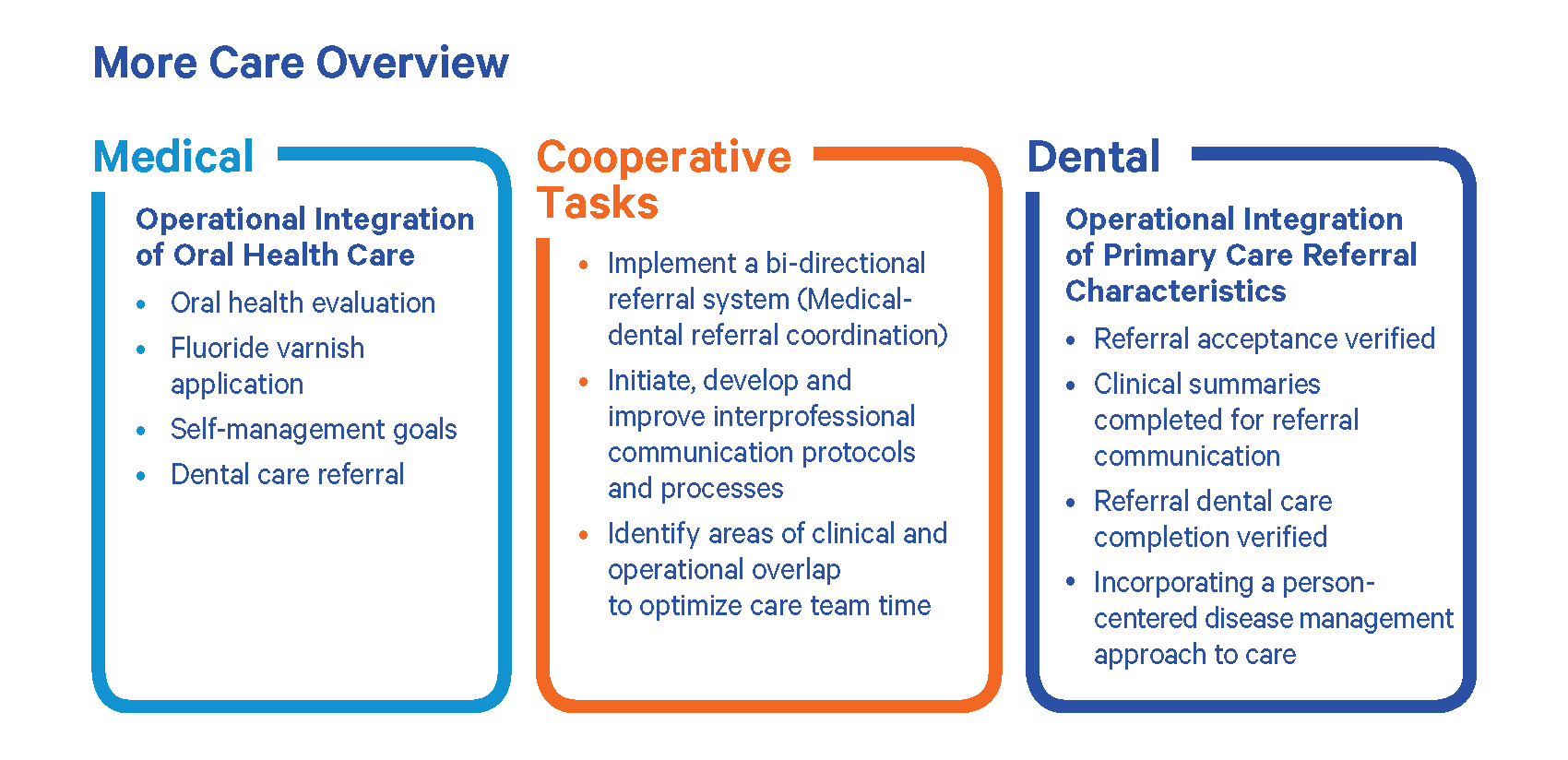 Strengthening Provider Communication
State-based partners work with local dental providers and organized dentistry to cultivate referral relationships so that patients seen in the primary care practice can be referred without obstacle. Dental and primary care teams work together to establish open lines of communication that promote shared goals and comprehensive care for their patients.
The MORE Care framework focuses on health information technology as a way to facilitate interprofessional practice.
Contact us to learn more about MORE Care.

Partnership and Growth
Throughout the MORE Care Collaborative, CareQuest Institute has worked with local, state, and national stakeholders testing strategies to integrate and coordinate oral health care for patients.
2015
Phase 1 Pilot: The South Carolina Experience
Through a partnership with the South Carolina Office of Rural Health and Medical University of South Carolina, models of integration of oral health into primary care and build dental care referral networks was pilot tested. Six rural primary care practices participated in a 12-month learning collaborative to test strategies for optimizing systems in their practices to support the delivery of oral health preventive services and coordinate care to dental
2016
Phase 2 Pilot: The Pennsylvania and Colorado Expansion
Drawing from the experience and knowledge gained during the Phase 1 Pilot, MORE Care expanded to two new states, partnering with the Colorado Rural Health Center and the Pennsylvania Office of Rural Health to support 17 rural primary care sites. The goal of Phase 2 was to further test oral health integration strategies and the development of dental referral networks in new environments of care to determine feasibility, challenges and successes.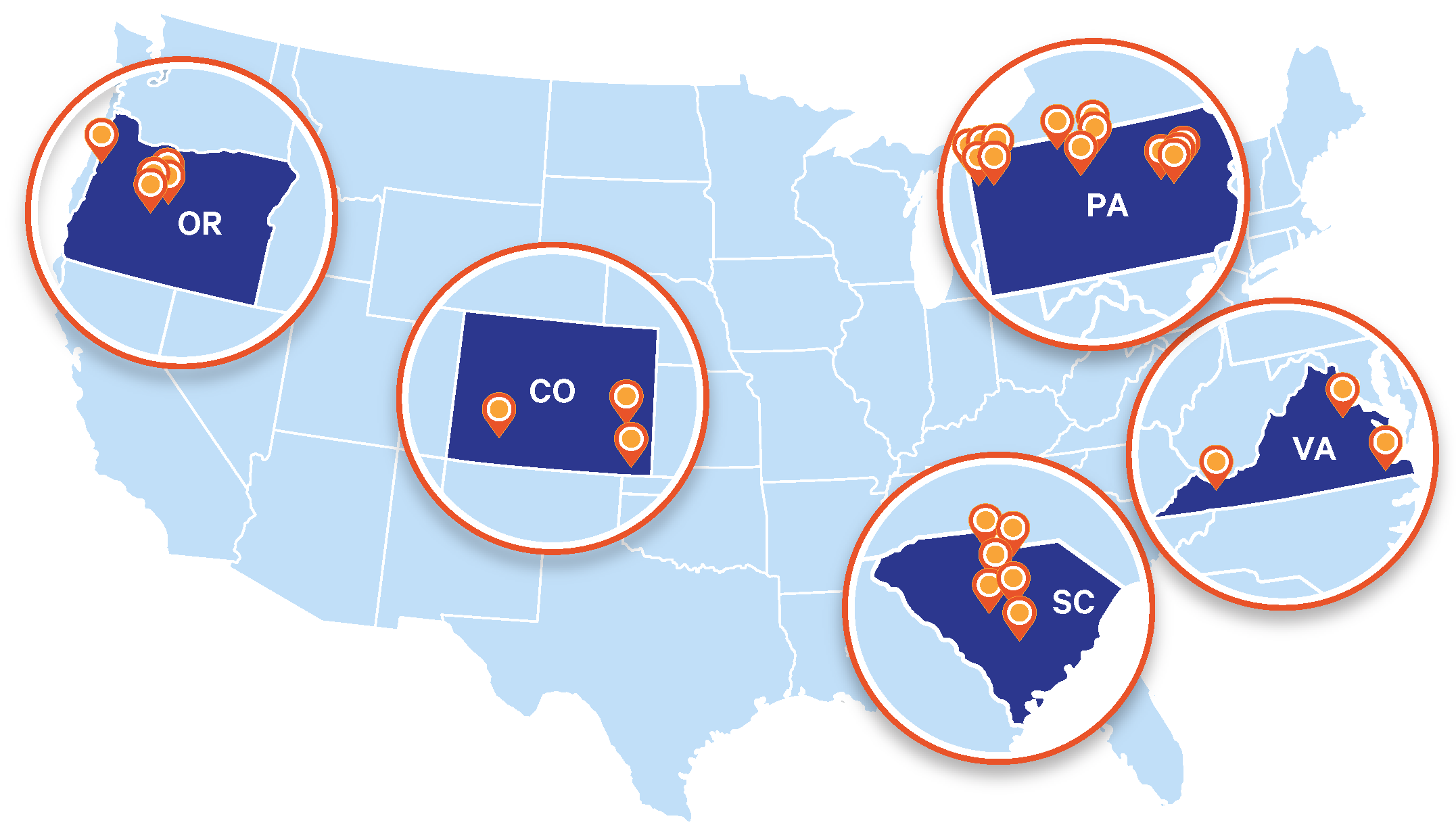 2019
Phase 3 Pilot: Virginia Expansion Pilot & Central Oregon Experience
The MORE Care model was adapted and piloted in Virginia in collaboration with Virginia Health Catalyst. The MORE Care model was also adapted and tested in Central Oregon's CCO (coordinated care organization) environment, where the health care landscape allows for enhanced ability to establish an interoperative health information technology solution to facilitate interprofessional practice. This unique opportunity provided timely insight into how medical and dental programs are able to coordinate care effectively to improve health outcomes. The Institute continues to gain knowledge and expertise about how health information technology can play a role in improving health outcomes across health disciplines.