About Us
We are a nonprofit committed to building a future where every person can reach their full potential through optimal health

We Champion Oral Health Transformation
Our health care system is not built to work for everyone. People of color, those living in rural communities, people with disabilities, older adults, and other historically marginalized groups have been left out. To achieve better health for all, we must work together to create a system that is designed for all.
Building on the Successes of Our Past Organizations
As CareQuest Institute, we are pulling forward and expanding upon the strengths of the DentaQuest Foundation, DentaQuest Institute, and the nonprofit programs of the DentaQuest Partnership for Oral Health Advancement. By doing this, we can broaden our impact and move faster, together, toward a health care system designed for everyone.

---
Our Full Portfolio
We operate as a catalyst for systems change bringing forth ideas and solutions to create a more equitable, accessible and integrated health system for everyone. We do this through our work in grantmaking, research, health improvement programs, policy and advocacy and education as well as our leadership in dental benefits, care delivery and innovation advancements. But we don't do it alone. Collaboration and partnership are key to achieving our mission — to improve the oral health of all.
---
Our 5 Areas of Activation
We bring forth ideas and solutions to create a more equitable, accessible, and integrated health system for everyone. But we don't do it alone. We partner with thought leaders, health care providers, patients, and stakeholders at all levels to change oral health care through 5 areas of activation.
We invest strategically to strengthen communities and improve the overall system to create better oral health for all.
We partner with public and private stakeholders across the care continuum to test and measure prevention-focused, person-centered strategies that create better health through oral health.
We conduct innovative research and actively seek out and analyze data to reveal opportunities to transform oral health care and improve patient outcomes.
We are building a world-class education program for medical and dental professionals, students and community partners who are committed to attaining the knowledge and skills required to transform oral health and health care.
We mobilize diverse coalitions, create pathways and champion policies that lead us to a more integrated, accessible and equitable oral health care system.
---
Our 3 Areas of Influence
As part of the full CareQuest Institute portfolio, our Areas of Influence include the majority or full ownership of several oral health entities that share our mission and values.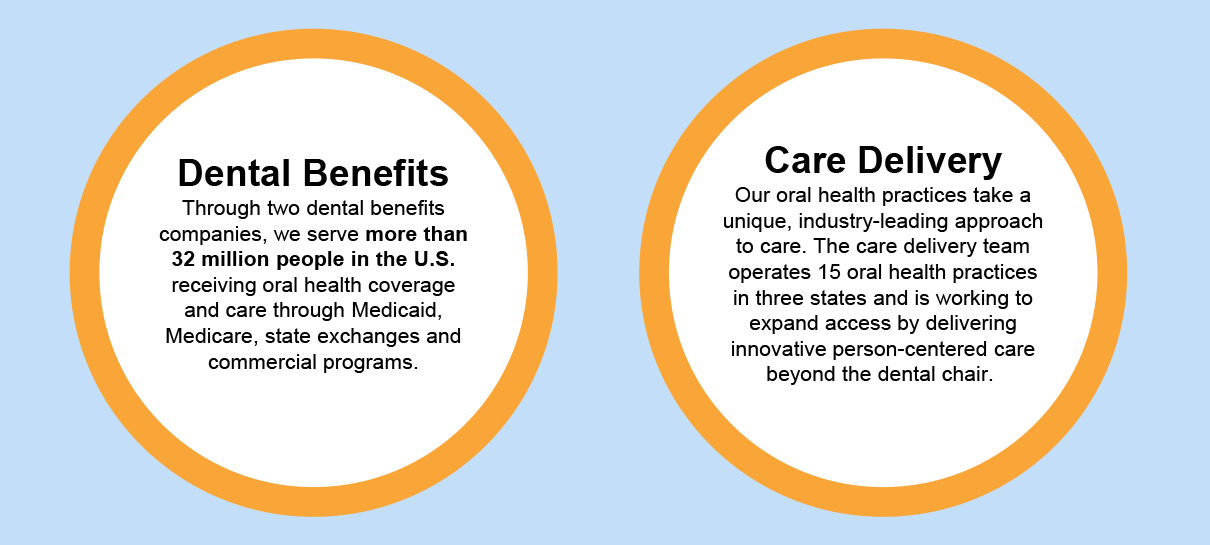 Our for-profit affiliate focuses on innovation to transform oral health access and outcomes for underserved populations in the U.S.

Learn more at carequestinnovation.com.
The link above will lead you to a separate website.
---
The Values That Drive Our Actions
Our values are core to our work in each Area of Activation and central to how we measure our success.

Join Our Team
We're on a mission to improve the oral health of all. Join our team at CareQuest Institute.