February 28, 2022
It was one of those questions, one of those statements, that echoes long after an event concludes.
"Go back to the simple question," said Chelsea Chokas, MSM, a US Navy veteran and a project coordinator at CareQuest Institute for Oral Health. "'Have you ever served?' That's a simple thing a doctor could ask in order to assess and give the best care."
The powerful call to action came at the conclusion of a virtual colloquium on Transforming Veteran Oral Health held by the American Institute of Dental Public Health (AIDPH) in partnership with CareQuest Institute for Oral Health on February 15 and 16. Spanning two days and nine sessions, more than 120 industry stakeholders heard from nationally renowned speakers — health care providers, advocates, policymakers, educators, and veterans — on ways to transform the oral health care system for veterans.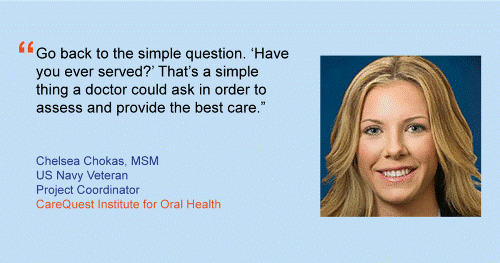 The event was part of a recently formed partnership between CareQuest Institute and AIDPH to explore solutions to veteran oral health care. As a part of that partnership, they released a white paper — Veteran Oral Health: Expanding Access and Equity — in December.
"We began our veteran oral health initiative near the beginning of 2021, focused on three key areas: access, research, and advocacy," said Annaliese Cothron, AIDPH executive director. "Near the end of 2021, we co-authored a white paper with CareQuest Institute, defining eight strategic recommendations for improving access to and quality of oral health care for veterans."
The colloquium sessions built off the strategic recommendations made in the white paper, which were informed by the veteran community.
"Together, our work with AIDPH is shining a light on the social, structural and individual drivers that impact veteran oral health," said Chokas. "Our recent report includes strategic recommendations to increase accessibility to care for our veterans and stimulate rural oral health innovation — and all are informed by actual veterans and their experiences."
The two organizations are collaborating on a second white paper that will be published in the first half of 2022 and additional education to continue to highlight continued obstacles and promising solutions around veteran oral health.
Opportunities to Improve Veteran Oral Health
The event keynote was delivered by Dr. Rena D'Souza and Dr. Renée Joskow from the National Institute of Dental and Craniofacial Research, who discussed the organization's recent report that explores the nation's oral health over the last 20 years and includes opportunities to advance innovative oral health for veterans.
During other sessions:
Rear Admiral Timothy L. Ricks, DMD, MPH, FICD, who currently serves as the chief dental officer of the U.S. Public Health Service as well as assistant Surgeon General, participated in a discussion about the need to advance medical-dental integration for veterans.
Rebekah Fiehn, MSPA, manager of care coordination and interoperability at CareQuest Institute, discussed the latest developments, projects, and initiatives underway to help strengthen and build a coordinated oral health infrastructure for veterans.
Alan Morgan, chief executive officer for the National Rural Health Association, highlighted the importance of expanding the role of rural health clinics in veteran oral health care delivery.
Aniela Brown and Aimee Rachel from the Texas Association of Community Health Centers presented on prioritizing trauma-informed approaches to clinical care for veterans.
In the final session to close out the colloquium — Veteran Voices: Dental Care from a Patient Perspective — a panel of veterans shared how their lived experiences have shaped their perception and access to dental care. Their perspectives gave some stark insights into the barriers to care, but also helped highlight pathways forward to achieve a more equitable and accessible dental care system for veterans.
The Connection Between Oral Health and Overall health
The veteran panelists highlighted a lack of education for veterans about the connection between oral health and overall health.
For Ashley Carothers, operations director at Minority Veterans of America and a veteran of the US Air Force, this began during active duty and is still a factor for her as a veteran today.
"When they would talk about the whole person and taking care of yourself and your health, it left out dental," said Carothers. "We were talking about mental and physical health and how those are connected, but dental health was never part of that equation. Even now, when I show up for an annual exam, we don't even talk about dental."
Coupled with the lack of medical-dental integration, this has resulted in many active duty service members and veterans not being armed with important information about how their oral health is connected to their overall medical health.
Barriers to Care and Low Utilization Rates
Many veterans do not qualify for dental care through the US Department of Veterans Affairs. Those who do often have difficulty navigating the complex system. According to the VA, out of the 9.2 million veterans enrolled in VA health care, only about 1.4 million are eligible for comprehensive dental care, and, of those, only 33% access their benefits.
The veteran panelists shed light on why this might be: long wait times to schedule appointments, limited dental services offered, lack of accommodation for service-related injuries, transportation hardships, and trauma.
Tammy Barlet, MPH, the deputy director of Nation Legislative Services at Veterans of Foreign Wars who served in the US Coast Guard, stressed the importance of oral health clinicians incorporating trauma-informed approaches into oral health care for veterans and being sensitive to their life experiences.
"Just having a slight grasp of whether that patient of yours sitting right there had served in the military or not can help," said Barlet.
Carothers highlighted transportation as a major barrier for veterans to access dental care, even if they're eligible. VA dental clinics are often located in cities, while many veterans live in rural areas, often making transportation difficult and costly.
"A lot of folks will take a look and say, 'Do I go to my VA appointment two hours away, or do I go buy groceries?'" said Carothers.
Solutions and Calls to Action
To close out the session, the veteran panelists were asked about solutions and calls to action to improve the oral health care delivery system for veterans.
For Carothers, it's about building relationships and recognizing oral health as a part of overall health. She stressed the importance of "relationships, building partnerships with folks, and allowing folks to tell their story."
She also urged attendees to "bring whole health back into the picture for folks, starting with dental."
Barlet stressed oral care as preventive care. "Many oral diseases and conditions are preventable with early treatment, so if there's awareness it's going on before it gets too far along, it's so beneficial," she said.
For Chokas, her main takeaway for the audience was that simple, yet powerful, question that she hopes providers will ask their patients more often: "Have you ever served?"