April 15, 2022
Dr. Kelly Tanner knew from a young age she wanted to be a dental hygienist. Today, as the CEO of Next Level Dental Hygiene and Ascend Health Partners, she provides dental organizations and hygienists with support and educational tools to develop leadership skills and accelerate careers in oral health care.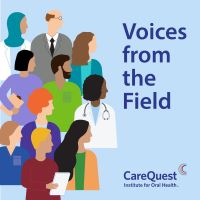 In honor of National Dental Hygienists Week (thanks to all the hygienists for the great work they do every day!), we asked Dr. Tanner to answer some questions about her experience as a dental hygienist, industry educator, and frequent speaker. Below, she shares the unique lens in which she views the role dental hygienists play in creating a more accessible and equitable oral health system — and one leadership skill all hygienists need to be successful.
Why did you choose to pursue a career as a dental hygienist?
Dental hygiene is the best profession in the world because of the impact we can make in people's lives. As the owner of Next Level Dental Hygiene and Ascend Health Partners and part owner of The Team Equation, I'm able to help millions of people through what I've learned in my three decades of experience in dentistry and earning coaching certifications, and a PhD in organizational leadership.
Was there an experience or moment when you knew it would be a career for you?
My career in dentistry began at 17, when I was a dental assistant. When observing my hygienist, I could see the difference she was making in people's lives and knew that's what I wanted to do. I knew from a young age that dental hygiene was a profession that had no limits on the impact I could make in the world.
You've had many roles throughout your career — educator, case manager, small business owner. Which did you find most rewarding?
The most rewarding role wasn't in a position for me — it is in the way I see the possibility to help people reach their highest potential. Finding my "why?" and purpose has served as a beacon for how I perform in any role.
You've also delivered many presentations in your career. (Your LinkedIn page says more than 1,500!) Can you share a couple tips on how to deliver a compelling presentation?
Always make it about the audience, focusing on their emotions, wants, and desires.
What one innovation do you see as really transformative for dentistry in the next year or two?
Shared systems for patient health records across all medical professions. I believe that medical-dental technology solutions that connect patient records can deliver the best health outcomes. There's an enormous opportunity to streamline the care hygienists provide and communicate the information across a global system of health.
What one leadership skill do you think hygienists need to be successful in their field?
Communicating with empathy. It's important to meet people where they are to connect in a meaningful way and understand their perspectives. Then you can decide the best way to respond.
What one change would you make to elevate the dental hygiene profession?
A shift in mindset and openness from the industry on how hygienists can utilize technology to serve their true purpose of educating and caring for patients.
How can hygienists help create a more equitable, accessible oral health system?
First, it's critical for hygienists to understand the importance of how the information they gather every day is informing a larger opportunity for patients. The assessments and digital health scans all inform other health care systems of causal effects of possible disease and health.
Comprehending this information empowers hygienists to understand their role and create systems with their team and other health care providers to improve outcomes of patients across health care systems. Second, hygienists are organically elevated because of the vital role they play in value-based care. Hygienists can take this information and apply it to educational systems, nonprofits, and even their own offices.
Editor's note: Voices from the Field is a series of blog posts that highlight individuals who are working to improve the oral health system. From providers and policymakers to advocates and patients, we provide a snapshot of the backgrounds, ideas, successes, challenges, and daily lives of people who are making oral health care more accessible, equitable, and integrated. If you know someone we should feature, please write to us at marketing@carequest.org.