Enter your email to receive the CareQuest newsletter:
October 20, 2022
When Raydiance Swanston heard about the Community Oral Health Transformation (COrHT) program launching in North Carolina, she knew it was something Mecklenburg County Pediatric Clinic had to join.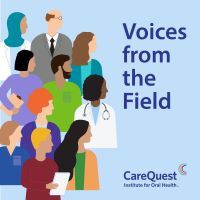 "One of my personal goals is to innovate and offer new opportunities that haven't been available," Swanston said. "We're trying to make a difference for people who need a voice, to service every person in this community and be an oral health champion."
The Mecklenburg clinic is one of 14 safety-net dental clinics across North Carolina participating in the Community Oral Health Transformation (COrHT) Initiative and forming a learning community that aims to reimagine what efficient, equitable oral health care looks like. The clinics will advance the shift toward value by embracing CareQuest Institute for Oral Health's Three Domain Framework, which focuses on 1) tele-prevention (teledentistry), 2) minimally invasive care (non-surgical treatment of disease), and 3) integration of oral health with overall health care.
For Swanston and Mecklenburg County Pediatric Dental Clinic, it is also an important opportunity to move the clinic forward — particularly as the challenges brought on by the pandemic continue to evolve. Here, Swanston shares more about the clinic and what the Mecklenburg team hopes to achieve as they kick off with COrHT.
What type of work do you do at the Mecklenburg County Clinic?
I'm a health program manager overseeing Mecklenburg County's Pediatric Dental Clinic. Mecklenburg County Public Health's Children's Dentistry Program creates smiles by promoting proper brushing and flossing and regular visits to the dentist. Apart from this role, I also serve on several committees — Safety Committee, Wellness and Recognition Committee — as well as the county's HIPAA monitoring team.
Why are you excited about participating in COrHT?
Our dental division serves pediatric patients ages 0–17. It is our hope that through this learning initiative, we can provide our patients and the community with value-based oral health care. We also hope to utilize this opportunity to conduct a feasibility study in expanding our services to offer adult dental care.
Are there particular elements of the program you think will really enhance your work?
I'm extremely interested in learning about teledentistry. Due to COVID-19, our clinic unfortunately was impacted and closed for 15 months. I'm sure if we had the opportunity to incorporate teledentistry into our services beforehand, we would have had the ability to continue to support our patients.
Telehealth is still new, and dental providers still are learning how to navigate this service offering. I'm sure it will take our team a few weeks to get the hang of this, but we are all in agreement over the need for this service in our community, and we are looking forward to taking on this challenge.
Why do you think there is a need for a program like COrHT?
Stakeholders from throughout North Carolina will come together under COrHT because they share the view that healthy communities and healthy individuals are interdependent, and that oral health is an essential component of overall wellness. This mutual belief allows us to begin the thought-provoking conversation about how we can make a difference in our community. Having the conversation and discussing how we can remove oral health disparities in our community will help us improve oral health for all.
How do you see this changing the way your organization operates going forward?
The framework we are hoping to implement would be the first time this service is offered by the county. We are excited to see how these changes continue to drive patient satisfaction and close the gap in accessing oral health care that currently exists. Going forward, we can expect that despite the current events happening around us, we will have tools and services at our disposal to care for our community's oral health needs.
How do you think your patients and community will benefit from this work?
This COrHT learning initiative provides a collaborative network for us to share ideas and discuss ways that we can expand our program and offer minimally invasive treatment and affordable dental care and ensure satisfaction for our patients. It is also very important that we remove systemic barriers to good oral health and accelerate the implementation of policies that reduce oral health disparities in our community.