February 4, 2022
Last month, the Diverse Dental Society (DDS) announced LaVette C. Henderson, CMP, HMCC, FACD, as its new president for 2022. The former executive director and current director of finance of the National Dental Association (NDA), Henderson brings more than 30 years of experience to the role and has a clear vision for what's next. The DDS was established in April 2020, bringing together the Hispanic Dental Association, the Society of American Indian Dentists, and the NDA under the shared mission of addressing the unmet oral health needs of marginalized communities.
Henderson joined the NDA in 1998 and began advocating for underserved populations, promoting oral health access and equity because, as she puts it, "Helping others who cannot speak for themselves to improve quality of life should be everyone's goal." In 2019, she became a fellow of the American College of Dentists for her leadership and achievements in dentistry as a non-dentist.
We caught up with Henderson as she settled into her new role to ask her about DDS's priorities and what drives her to do this mission-driven work.
Congratulations on the announcement! What are your top two or three priorities in the new role?
I'll share four:
Amplify the need of diversity and inclusion in the dental professions starting at the college level.
Raise practitioner and public awareness of the organization and its goals.
Enhance the growth, influence, and impact of each individual organization.
Eliminate oral health inequalities in our populations.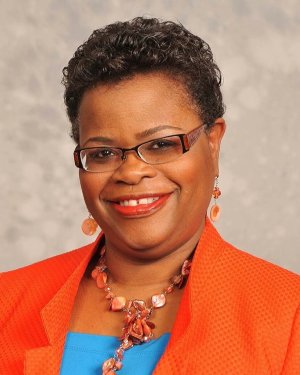 For those who may not know about the Diverse Dental Society DDS, what are the organization's primary goals?
In addition to enhancing the growth, influence, and impact of the three organizations under the Diverse Dental Society, we aim to create a safe space to discuss and develop mechanisms to improve access and equity. We do this by collaborating in areas of service, education, and advocacy.
On a personal level, why is advocating for marginalized communities so important to you?
Helping others who cannot speak for themselves to improve quality of life should be everyone's goal. Knowing how dental visits are vital to a healthy person's life has inspired me to take a stand and be a voice. This can be achieved if everyone is given the right tools and education. Children are happier, adults become more confident, and seniors continue to socialize and engage when they have a healthy smile.
How did you get involved with the NDA back in 1998?
I was the NDA's accountant in 1998 and started traveling with them to their annual meetings to assist the executive director, Robert Johns, with daily financial reporting to the board. When my daily duties were complete, instead of going to my room or enjoying the cities, I started volunteering to help with different aspects of the meeting — with the registration desk, room monitoring and sets, crowd control.
When a manager role within meetings and conferences became available, Mr. Johns approached me. After numerous discussions, I accepted the full-time position in 2000, moved through the ranks, and here I am today, president of a dental organization representing the voices of marginalized communities.
You've spent more than two decades with the NDA. How have you seen the dental industry change in that time?
We have seen improvements in the industry like technology, better dental school recruitment, and increased oral health awareness. But some of these improvements have placed more constraints on marginalized communities. For example, with the new digital dental equipment to improve dental techniques, procedures, and patient comfort, the office visit cost has increased to help cover the practitioner cost of the new technology, but the consumer economic situation has not improved. Therefore, the consumer is still not able to afford routine visits and pay for much-needed dental treatments.
Regarding dental schools, the number of minority faculty positions has increased some, but dental schools are not providing equal study support and resources for all students. Minority students are not treated equally to their white counterparts.
Do you believe the dental industry is making strides toward achieving health equity? Where is it still falling short?
Health equity is still falling short in marginalized communities, with our veterans, the underserved, the disabled, minority faculty positions in dental schools, practitioners with unconscious biases and lack of cultural awareness, I could go on . . . We are not sure how to solve the overall issues. However, coming up with an insurance system that makes preventive care more accessible and affordable for people of all ages is needed. Private care insurance fees need to be more affordable and maybe based on family household income.
We also need more interprofessional training and collaborations to increase health equity. And we need more minority dentists at the table, especially at the decision-making tables.
What can providers and practices do to create environments that promote equity? What can policymakers do?
All oral health professionals should be required to take cultural competencies courses and implement the skills learned. All providers and their staff should consciously listen to their patients and not just emote an opinion.
Policymakers should engage minority dentists who are champions of equity in decisions and discussions about policies and procedures. Minority health professionals should be included in all aspects of these health discussions. And we all should be educating each other and the public of the importance of oral health as it relates to overall health. There cannot be good health in the absence of good oral health!