Please create an account to view this recorded webinar.
Create an account
Creating an account is easy. Click the button below to fill out the registration form. Your request will be reviewed and an email confirming your account will be sent within one business day.
Login to your account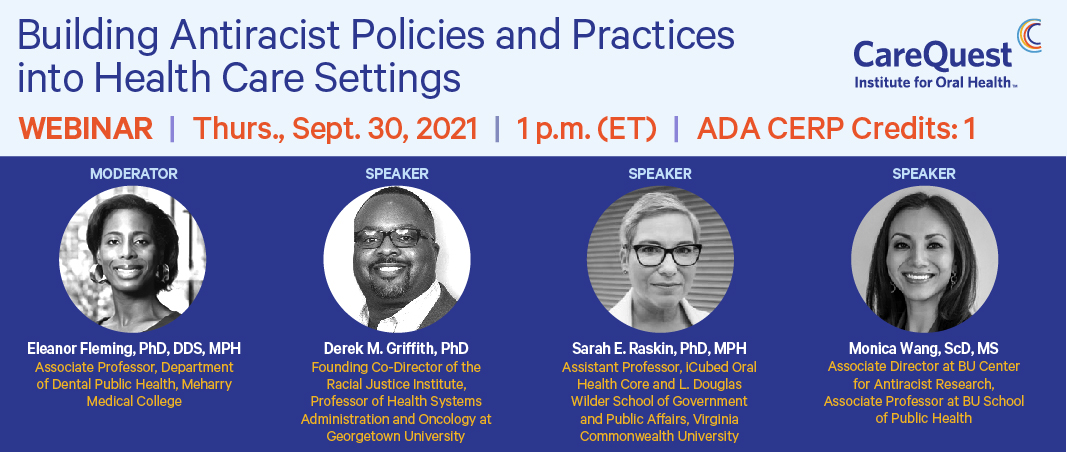 Description
We've all heard the terms racism and antiracism. But what do they really mean for us as individuals and for the organizations where we work? And, for the purpose of the next CareQuest Institute webinar, how do they influence the care we provide to patients?
In this webinar, Building Antiracist Policies and Practices into Health Care Settings, a panel of experts from oral health and primary care will explore the foundations of racism and how those foundations shape our care environments. They'll also share practical strategies any organization can use to create policies and exhibit behaviors that will get us all closer to an equitable system.
Learning Objectives:
Define racism and antiracism.
Identify policies and behaviors that promote antiracism in oral and primary health care settings.
Explain how antiracist policies and behaviors can lead to health equity.
Moderator:
Eleanor Fleming, PhD, DDS, MPH, Associate Professor, Department of Dental Public Health, Meharry Medical College
Presenters:
Derek M. Griffith, PhD, Founding Co-Director of the Racial Justice Institute, Founder and Director of the Center for Men's Health Equity, Professor of Health Systems Administration and Oncology at Georgetown University
Sarah E. Raskin, PhD, MPH, Assistant Professor, iCubed Oral Health Core and L. Douglas Wilder School of Government and Public Affairs, Virginia Commonwealth University
Monica Wang, ScD, MS, Associate Director of Narrative at the BU Center for Antiracist Research, Associate Professor of Community Health Sciences at the BU School of Public Health, Adjunct Associate Professor of Health Policy and Management at the Harvard T.H. Chan School of Public Health
Disclosure of Relevant Financial Relationships:
Participating instructors in this program have disclosed that they have the following financial arrangement or affiliation with the listed corporate organization offering financial support or grant monies for or related to the content of this program/activity.
Sarah E. Raskin, Ph.D., M.P.H
Corporate Organization: CareQuest Institute for Oral Health, DentaQuest, and Virginia Health Catalyst
Eleanor Fleming, PhD, DDS, MPH
Corporate Organization: CareQuest Institute for Oral Health
CareQuest Institute for Oral Health is an ADA CERP Recognized Provider.
ADA CERP is a service of the American Dental Association to assist dental professionals in identifying quality providers of continuing dental education. ADA CERP does not approve or endorse individual courses or instrutors, nor does it imply acceptance of credit hours by boards of dentistry.

CareQuest Institute for Oral Health designates this activity for 1 continuing education credit.