Enter your email to receive the CareQuest newsletter:
October 23, 2023
On September 15, 2022, the American Medical Association (AMA) voted to approve a new procedure code for the application of silver diamine fluoride (SDF) by medical professionals to arrest cavities. The addition of this code is a milestone in medical-dental integration and a step forward for oral health equity, providing access to this valuable treatment to millions of Americans who don't see the dentist every year.
"The AMA just created a transformative mechanism for health plans to support medical teams in controlling tooth decay with a breakthrough medicine," said Jeremy Horst Keeper, DDS, PhD, director of clinical innovation at CareQuest Institute Partners and one of the authors of the code. "SDF is carefully brushed onto cavities and repeated periodically, stopping a great majority of them. It also prevents new cavities more efficiently than anything we've ever seen before. Why wouldn't medical teams use SDF to take control of the most prevalent disease? They can, they do, and now there is a code for health plans to compensate them for it."   
CareQuest Institute, in partnership with several leading oral health and medical organizations, championed the code and submitted it for approval. Myechia Minter-Jordan, MD, MBA, president and CEO of CareQuest Institute, supported it with the AMA.
"To achieve oral health equity, we need the participation of the entire health system," Minter-Jordan said. "The inclusion of a new CPT code for physicians to offer critical non-invasive therapeutic oral health care to their patients is a key step toward a more accessible, equitable, and integrated health system that meets the needs of everyone."
Keeper explained how this change will benefit patients — especially underserved patients — as well as what's next for them, for medical providers, and for dental providers.
Why is the silver diamine fluoride (SDF) code such an important breakthrough, Jeremy?
There are communities where over half of children get flown hundreds of miles to the closest dentist to get to cavity treatment under general anesthesia. But they have a local medical clinic. Arming these medical teams with this medicine sounds crazy because for hundreds of years dentists have been the only ones who can treat tooth decay, but now that we have non-invasive therapies for cavities, many members of dental and medical teams can, too.
This breakthrough is revolutionary, but it is also seriously validated: SDF was recommended by the Indian Health Service in 2017, by the American Dental Assocation (ADA) in 2018, and was added to the World Health Organization's Lists of Essential Medicines in 2021.
So, there's a great need for this?
Definitely. Here are some additional statistics to underscore why this is critically needed to improve access to care for all:
But SDF isn't just for children, right?
While the only permanent solutions to dental caries are taking out the tooth or fixing a person's diet, SDF has similar outcomes to dental fillings. So, if there is decay, SDF is an option: for kids, adults, elders, anyone. Some people even use it for their dogs, but don't try that at home.
The code went into effect in July. Now what? 
Health plans are figuring out how to structure their payments for this therapy. Since they most commonly get the bill for the sedation, anesthesia, and emergency department visits for tooth decay, they should be excited to drastically decrease costs and improve outcomes and experiences by reimbursing SDF.
What does this change mean for physicians?
The addition of this code gives physicians one more important tool in their toolbox to impact the health of their patient by providing another point of access where many do not have one. It will prevent children from needing sedation to treat a mouth full of caries, a condition that is nearly completely preventable. 
Will physicians need additional training? How will they get that? 
Smiles For Life (the group that created the most commonly used fluoride varnish trainings for medical teams) will create educational materials on dental caries diagnosis and SDF application. Rebecca Bernstein, MD, residency faculty at Medical College of Wisconsin and the only physician to publish on the use of SDF, and I will drive the curriculum.
What does this change mean for other members of the health care teams?
One of the challenges ahead will be figuring out how physicians can delegate this task to nurses and other medical team members. They have far more safety training and are often just as skilled in performing intricate procedures as delegated dental team members, but they do not have the language for communicating exactly where in the mouth to apply the SDF. "The gingival margin of 29 facial" means nothing to a nurse.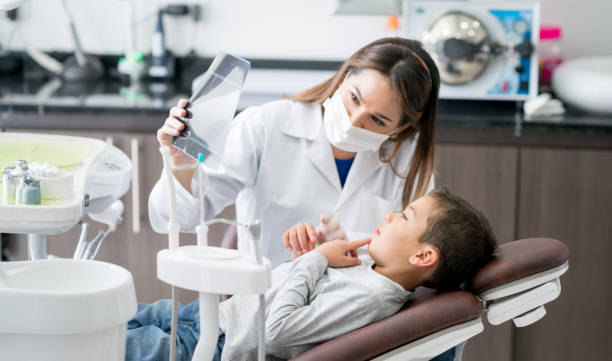 That communication piece seems important. Any ideas on how we can meet that challenge?
CareQuest Innovation Partners [a for-profit subsidiary of CareQuest Institute] is validating innovations to address this communication gap. For example, we are looking into a simple new caries indicator that will empower medical teams to have all providers work at the top of their licenses and optimize clinic flow — critical elements in transforming care to overcome health inequities.
And what about for dentists? What does this mean for them?
Most dentists and dental professionals, including the American Dental Association, support this code addition. There is growing recognition that addressing oral health inequity requires an interprofessional and integrated approach. The addition of this code will support both. 
It also could signal a big change in the industry. Dentists are surgeons, right? Physicians and medical surgeons have learned to work together. So, for example, when a medicine becomes available that simplifies treatment from surgical to pharmacological or topical care, surgeons hand off to physicians. SDF offers the first major advancement in caries treatment that uses pharmacological-topical approach; it is time for dentists to hand this off. 
Can you say a little more about how SDF is different from fluoride varnish? 
Differences between the application of fluoride varnish and SDF include the diagnostic indication, the expected outcome, and the application technique. The indication for fluoride varnish is high risk of dental caries, while the indication for SDF is an actual caries lesion. The expected outcome for fluoride varnish is less new caries lesions, while that of SDF is arrest of the lesions. This might be thought of as disease prevention versus disease treatment. 
The application technique for fluoride varnish is to apply it to all tooth surfaces. In contrast, SDF is applied very specifically to caries lesions themselves, which commonly represent much smaller and specific areas. SDF requires much more careful attention and technique. Analogies in medicine might be that fluoride varnish is like applying a skin protection lotion for a person with eczema, while SDF is more like electrocautery/cryotherapy for warts — or using a silver nitrate stick to stop a bleed.
Is SDF FDA approved as a drug to treat dental caries? 
No — like fluoride varnish, it is cleared as a device to treat dental hypersensitivity. The NIH/FDA phase III trial will soon end, and caries drug approval is expected thereafter. It was granted Breakthrough Therapy status by the FDA. We expect that drug approval will constitute a move to a Category I CPT code. 
Who contributed to this work? How did it happen?
The code proposal was a collaboration led by a team focused on minimally invasive care within CareQuest Institute, which sponsored and submitted the proposal. Peter Milgrom, DDS, emeritus professor at the University of Washington Schools of Dentistry and Public Health and founder of Advantage Silver Dental Arrest, did the bulk of the early work to get this project moving. Without him, none of this would have happened. There were also key contributions from Elevate Oral Care, the Children's Health Alliance of Wisconsin, and a group of physicians who have been using and teaching SDF themselves, including Drs. Stephen Holve, Karen Sokal-Guttierez, and Rebecca Bernstein, in particular.
Support from several organizations was critical to approving the new code: American Geriatrics Society, National Dental Association, American Dental Association, American Dental Hygienists Association, Society of American Indian Dentists, Children's Health Alliance of Wisconsin, National Coalition of Dentists for Health Equity, NorthWest Health Law Advocates, Community Catalyst, and the Center for Medicare Advocacy.