Enter your email to receive the CareQuest newsletter:
June 28, 2022
By Stacey Auger, Policy Consultant, CareQuest Institute
It's a troubling reality you've likely read about before: Millions of Americans, especially those with lower incomes, people of color, and those living in rural communities, cannot secure the dental care they need due to a variety of factors, including cost, coverage, provider availability, and social determinants of health. As a result, there are wide disparities across racial, ethnic, and income groups. Those disparities result in poor oral health, which has been associated with higher risk for diabetes, cardiovascular disease and stroke, complications in pregnancy and childbirth, adverse mental health outcomes, and other conditions that are costly to treat.
But hope — and significant activity — is on the horizon.
During the 2022 legislative sessions, Hawaii, Kansas, Maryland, New Hampshire, and Tennessee enacted legislation and budget measures to create or expand Medicaid adult dental benefits, which can help reduce those disparities and improve much-needed access to dental care. That means that nearly 2 million people will soon be gaining access to Medicaid dental benefits.
Further, several other states have secured additional legislative and administrative victories for their Medicaid programs that will expand eligibility, coverage, and access to care.
Securing Medicaid Dental Benefits
Although states are required to provide dental benefits for children covered by Medicaid and the federal Children's Health Insurance Program (CHIP), adult dental coverage is not similarly mandated. States have the option to limit the type or amount of services and populations they will cover. Furthermore, states can exclude adult dental services entirely. Today, while most states provide at least emergency/urgent dental benefits for their adult Medicaid beneficiaries, nearly one-third of states do not provide dental care beyond emergency procedures.
Advocates and policymaker champions work daily to try to change that.
In states across the country, those stakeholders have long sought to begin closing the disparities gap by securing Medicaid adult dental benefits in their states. They made great strides in 2020 and 2021, as Delaware, Oklahoma, Virginia, West Virginia each implemented new or significantly expanded benefits for all Medicaid adult beneficiaries in their states. Colorado, Massachusetts, and Minnesota restored certain dental services that had been previously cut, and Texas approved a limited preventive benefit for adults with disabilities.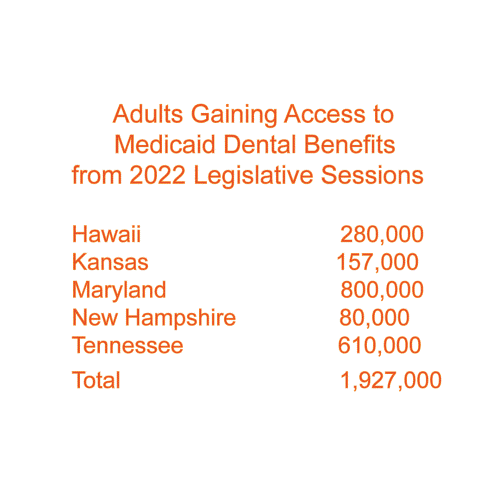 Furthermore, Maine approved the creation of an extensive dental benefit for all adult beneficiaries while Louisiana approved the creation of a similar benefit for adults with intellectual and developmental disabilities. These new benefits will take effect in both states on July 1, 2022. 
These hard-fought legislative wins have been years in the making and have been secured thanks to the persistence of community members, advocates, and legislative champions. The wins have been bolstered by strong economies and a growing understanding of the connection between oral health and overall health and the cost savings associated with providing dental benefits and regular care.
Momentum Behind Dental Benefit Wins in 2022
Here's a rundown of the latest developments from the 2022 legislative session:
Hawaii – The state eliminated all non-emergency dental benefits for adult Medicaid beneficiaries in 2009 during the economic downturn. Governor David Ige included $10.2 M ($3.5 in General funds and $6.7M in Federal funds) in his FY2023 supplemental budget for a prevention-based package of benefits. HB 1754 and SB 1294 outlined a menu of three options for restoring benefits ranging from a basic to extensive package. In May 2022, the Legislature approved the state budget which included $25.9M ($8.8M in General funds and $17.1M in Federal funds) for Medicaid adult dental benefits. The new benefit, which will be designed and implemented by the state's Department of Human Services Med-QUEST Division, is slated to begin on January 1, 2023.
Kansas – On April 20, Governor Laura Kelly signed the FY2023 state budget, which included $3.5M in funding to extend dental benefits to all adults enrolled in the state's Medicaid program. Kansas currently provides only emergency extractions to its adult Medicaid members with some additional dental services offered through the state's managed care organizations as value-added benefits. While a final package of services will be designed by the Kansas Division of Health Care Finance in consultation with Oral Health Kansas and other partners, it is expected that all adult beneficiaries will have access to preventive and restorative care when the new benefit is implemented later this year.
Maryland – On May 12, Governor Larry Hogan signed SB150 which creates a Medicaid dental benefit for all adults. Currently, the majority of adult Medicaid members are covered only for emergency services for dental problems provided in a hospital emergency room. (Maryland currently provides an extensive benefit to pregnant adults, former foster care recipients under age 26, and individuals enrolled in the Rare and Expensive Case Management Program. The state's Medicaid Adult Dental Waiver Program also currently provides a limited benefit [$800 per year] for adults who are dually enrolled in Medicaid and Medicare. All remaining adult beneficiaries are covered only for emergency services for dental problems provided in a hospital emergency department.) Beginning January 1, 2023, all adult beneficiaries will have access to diagnostic, preventive, periodontal, and restorative services. There will be no cap or annual benefit maximum applied to the benefit which will allow all individual patient needs to be met in a timely manner. The Legislature included a fiscal note of $66M for the first six months of the program and an additional $132M for FY 2024.
New Hampshire – In May, the New Hampshire Legislature passed companion bills in the House and Senate which create a dental benefit for all adults. Set to begin in 2023, the benefit will include diagnostic, preventive, restorative, and oral surgery services. Adults with developmental disabilities, acquired brain disorders, and seniors and adults with chronic illness or disabilities enrolled in the Choices for Independence program will also have coverage for dentures. Currently, New Hampshire offers an emergency-only Medicaid dental benefit to its adult beneficiaries. It is estimated that the new benefit will cost approximately $24M ($6.9M in state funding and $17M in federal funding). As outlined in the bills, the state funding portion would come from the $21 million state settlement with Centene Corporation. At the time of this writing, both bills are being prepared for submission to Governor Sununu who has supported the development of the benefit and is expected to sign.
Tennessee – Tennessee has been one of a small number of states that has not offered a dental benefit to adult beneficiaries. In January, the state announced it would begin providing extensive dental coverage to pregnant and postpartum beneficiaries beginning on April 1, 2022. In February, Governor Bill Lee released his budget recommendations, which included $75.5M ($25.5M in general funds and $49.9M in federal funds) to provide dental benefits for the program's approximately 610,000 adult beneficiaries. In addition to including the Governor's recommendation in its approved budget, the Legislature also included funding for a dental provider rate increase as well as $11.8M (general funds) to support dental schools in effort to ensure an adequate provider network to care for adults with newly acquired dental coverage. Funding will be used to expand the class sizes at the state's two existing dental schools (Meharry Medical College School of Dentistry and University of Tennessee College of Dentistry), recruit and retain dentists through loan repayment, and expand prosthodontic services. (In addition, Lincoln Memorial University (LMU) will open a dental school in the fall of 2022, and the budget includes $3M to establish a pilot program to serve East Tennessee in partnership with the LMU-College of Dental Medicine.)
Efforts to Expand Dental Benefits Continue in Other States
Advocates and their partners from Arizona and Michigan, to name a few, have drawn on the experience and expertise of their colleagues in different states and are well on their way to successfully expanding their Medicaid adult dental benefit offerings. Through participation in collaborative efforts such as OPEN's Medicaid Adult Dental Benefit Collaborative (MADBLC), advocates from those states and from across the country serve as supports and resources for one another – sharing strategies, best practices, messaging tips, materials, and encouragement.
Since 2017, Arizona has provided an emergency-only adult dental benefit capped at $1,000 per person per state fiscal year. Oral health advocates secured modest expansions in preventive coverage for elderly and disabled adults in 2016. In 2021 (and several preceding legislative sessions), there was significant bipartisan interest in and support to create an extensive benefit for pregnant adults, but the Committee held the bill due to cost concerns — particularly the one-time, initial appropriation to administer the program (estimated at $3.6 million). Concerns were also raised by dentists, who cited a preference for preventive care and pre-conception health to mitigate the risks associated with untreated oral disease during pregnancy. Stakeholders believe that their best course of action is to advocate for an extensive dental benefit for all adults in 2023 and are working to identify legislative champions.
In Michigan, Governor Gretchen Whitmer included $243M in the FY2023 state budget to consolidate all Medicaid dental benefits (Healthy Kid's Dental, Healthy Michigan Plan Dental (Medicaid expansion) and the Adult Fee-for-Service Program) into one managed dental plan. Currently, the Healthy Kids Dental program provides comprehensive benefits to Medicaid-enrolled children under the age of 21 and robust reimbursement rates for participating providers while the Adult Fee-For-Service dental program has limited benefits and reimbursement rates that have not been updated in over 30 years. The House and Senate have proposed to increase rates in the Adult Fee-For-Service program. The Conference Committee is currently negotiating the final budget. Advocates and the dental community have called on the Legislature this session to consolidate all dental benefits into one plan and have focused on expanding the benefit package, increasing utilization, increasing provider reimbursement rates, and improving dentist participation in the Medicaid dental program.