May 17, 2022
A quick Google search, especially during Mental Health Awareness Month this May, will yield thousands of results about the connection between physical health and mental health. Healthy behaviors — healthy eating, regular exercise, a good night's rest — result in better mental health for people across their lifespan.
But what about oral health? Does a healthy mouth lead to a healthy mind and vice versa?
The answer is yes — and the research is growing.
In each of the last two years, CareQuest Institute conducted the State of Oral Health Equity in America survey, a nationally representative survey to examine attitudes, experiences, and behaviors related to oral health. Respondents self-rated their mental health and oral health status and answered questions about oral health care utilization. The survey relied on self-report of the individual's mental and emotional health, which is impacted by myriad factors and personal circumstances. Findings from the studies showed consistent oral health disparities among those with self-identified poor mental health.
For example, some new research from the 2022 survey found that:
Individuals with severe depression are more than twice as likely to report not brushing their teeth at least twice per day compared to those with no depression.

Even individuals with minimal depression have significantly higher odds of not brushing twice per day compared to those without depression.

Those with minimal depression also had more than twice the odds of reporting at least one oral health problem than those without depression.
Unfortunately, some of this research might not be surprising. The pandemic has intensified the mental health crisis in the United States. A CVS Health/Morning Consult survey released earlier this month found that nearly 6 in 10 Americans (59%) have experienced concerns about either their own mental health or that of family and friends. That's a 9% increase from April 2020.
Even before the COVID-19 pandemic, poor mental health was linked to exacerbated oral health issues. Research has shown that those with poor mental health also tend to have poor oral health and are more likely to have decayed teeth, periodontal disease, and dry mouth. During the last two years, there has been an increased incidence of cracked teeth, which media reporting has linked to the stress caused by the pandemic. Access to care was also hindered by closure of dental offices and fear of catching COVID-19, which worsened oral health problems.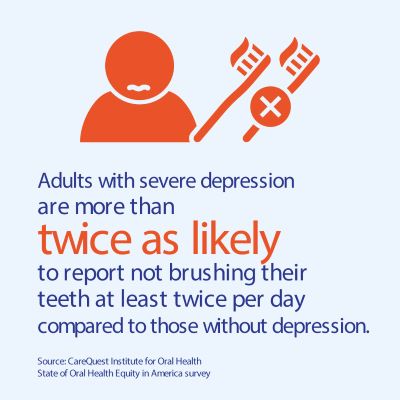 As we continue to navigate an uncertain return to a new normal, learning more about the connections between oral health and mental health will be important. Here are three CareQuest Institute resources that explore that connection:
1. Association Between Mental Health and Oral Health Status and Care Utilization. This study, which appeared in Frontiers in Oral Health, is the first to evaluate the relationship between oral health and mental health during the pandemic. Based on a nationally representative survey of adults in the US, the study found that "poor oral health status among the respondents were associated with poor mental health, age, socioeconomic status, and not visiting the dentist at regular intervals."
More specifically, the study found that adults who reported poor mental health were:
more likely to be facing financial and emotional hardships
three times more likely to rate their oral health as poor
more likely to have one or more unmet oral health needs
The survey also uncovered that there is a lack of research on the association between poor mental health and poor oral health status.
"Further research is necessary," the authors write, "to understand the mechanisms underlying these associations and develop models of care that will promote oral health utilization by individuals with mental health problems."
2. The Connection Between Oral Health and Mental Health. In this visual report from 2021, the CareQuest Institute State of Oral Health Equity in America survey found:
Almost one out of five respondents rated their current mental health status as fair or poor.
Americans who had poor mental health were prescribed opioids for a problem with their teeth or mouth after surgery at a higher rate than those with good mental health.
Those who had poor mental health were nearly four times more likely to report they were self-conscious or embarrassed because of their teeth, mouth, or dentures than those respondents with good mental health.
In the coming months, CareQuest Institute will release more findings and analysis from the 2022 State of Oral Health Equity in America survey.
3. Dental Fear Is Real. Providers Can Help. This CareQuest Institute visual report explores the impacts of dental fear, how it varies by demographic and poses a significant barrier to receiving dental treatment. Some key findings:
Hispanic adults were more than two times more likely to report dental fear compared with white adults. Black and Asian adults were also more likely to report dental fear than white adults.
Nearly 3% of adults reported that at their last dental appointment, they were "so frightened and nervous" that it either made the dental treatment difficult or the treatment didn't succeed.
During a May 5 CareQuest Institute webinar on the topic, an expert panel explored the science behind the negative feelings many individuals have about receiving dental care and potential solutions for dental fear and anxiety. The panel also answered seven common questions about dental fear and anxiety, including the connections to depression.
As Mental Health Awareness Month continues, CareQuest Institute will share more content and resources on the connection between oral health and mental health.