January 26, 2023
Since 2010, Donna Balaski, DMD, has voiced the importance of periodontal coverage for adults on Medicaid in Connecticut.
"By failing to treat periodontal disease," she says, "it is like allowing an infection in a person's lower limb to progress to gangrene where the ultimate treatment is amputation."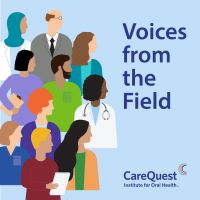 Balaski hopes her analogy — and her research-backed words of advocacy — will soon reach the ears of state leaders and lawmakers, inspiring them to strengthen Medicaid adult dental benefits in Connecticut. She knows the far-reaching effects benefits can have on access, equity, and the health of individuals in every corner of the state.
"What you should do in terms of population health and programs that address population health is more important than what code you cover," she says.
Balaski, a manager of medical care administration for the Connecticut Department of Social Services (DSS), knew she wanted to be a dentist when she was 5. In fact, she wrote about it in her "what I want to be when I grow up" essay in fifth grade, when most girls wanted to be a nurse or teacher. She achieved that goal and has been in the DSS for nearly 20 years, including a tenure as the executive director of the Board of Education and Services for the Blind.
She's no stranger to advocacy tools and points to the Medicaid Adult Dental Coverage Checker, an interactive tool that shows where a state's Medicaid adult dental benefits package lies compared to other states, as a valuable one. When she first explored it last summer, she noticed Connecticut offers coverage for extractions, fluoride treatments, and more for adult Medicaid members — but not periodontal.
Why is that coverage crucial? And what headway have advocates in the state made?
What brought you to the Department of Social Services in Connecticut?
I came to the Department of Social Services in 2004 to help settle a class action lawsuit against the state for the lack of access to dental care. I was charged with designing a program that was less administratively burdensome and improved utilization of dental services.
Can you share more on the history of Connecticut's Medicaid adult dental benefits?
Connecticut has been covering Medicaid adult dental services since the 90s. In 2018, rather than lose dental benefits entirely for adults, state lawmakers reached a compromise to place a cap on dental benefits with an annual benefit maximum of $1,000. The state reduced cleanings to one time per year for healthy adults in 2019, but for adults with chronic medical conditions it stayed at two per year.
Do state legislators look at dental coverage as an area to cut from the budget?
In the past, dental has always been the sacrificial lamb when it comes to the state budget, especially the adult dental benefits, because it's an optional program. There are many worthy programs that need funding, but since many people don't understand or know the importance of having good oral health, optional programs, such as dental, are not valued and often among the first to be cut. Finally, we said, "We have no more bones to give you."
Why have you been fighting to specifically get periodontal coverage for adults on Medicaid?
In 2008, the Connecticut Dental Health Partnership (CTDHP) formed. One of the CTDHP's missions is to restore good oral health to adult Medicaid members.
The CTDHP receives numerous referrals for people with chronic and often uncontrollable diseases who need care because of their complex medical histories. CTDHP often encounters members who have not had oral health care in years for a variety of reasons, including health equity, social determinants of health, and other significant barriers to accessing care. The Partnership then discovers that some of those members have periodontal disease. Failing to treat that disease is called "supervised neglect" and is reprehensible.
Has the Medicaid Adult Dental Coverage Checker helped you show people the importance of periodontal coverage?
Yes. I was able to tell how many other states had periodontal coverage, and that we were behind, and why. And I was able to give people a source to point to, not something they had to go digging in layers to try to find and understand and look at code fees.
What, if any, headway have you made with policymakers in Connecticut?
I have been doing this since 2010, and this is the first time I ever got anyone interested. Most of the people that I've spoken to are community groups we work with. I shared 60 research papers on the negative impact of periodontal disease on people's health they could read. I've presented the issue to my bosses, the new Medicaid director, who has been very interested in dental and oral health services, and he's very happy with the way our program is running. He's giving it some attention that we haven't gotten in many years.
We have also been very lucky to have DSS Commissioner Deidre Gifford, who understands the importance of improving oral health, and Governor Ned Lamont, who has been very supportive of improving benefits for adults.
Can you give an example of the information you shared on the benefits of periodontal coverage?
A study led by the Mayo Clinic found providing preventive dental care and treatment of periodontal disease results in a cost savings for people who have diabetes and/or cardiovascular disease. A person with one of those conditions would save about $550 with periodontal coverage per year. If they have both conditions, they can save about $866 per year.
What are the next steps in the process?
After a fiscal analysis, my recommendations would go to the Office of Policy and Management for approval. Then it would be included in the governor's budget, and in the last step, the state legislature would vote on it.
Why do you think state leaders and lawmakers are hesitant to strengthen coverage?
Like most of the population, they don't understand the value or the importance of good oral health. Many people think of going to the dentist as taking care of their teeth, and they think of dental benefits as being related to cleanings, x-rays, fillings, and dentures. It is much more than that. There is more to your mouth than just teeth, and that is the oral environment that impacts your whole body. They don't understand how oral health is related to systemic health. It's not about what codes you cover; it's about what services you offer, bringing people back to functional health, good oral and functional health.
Do you recommend other states use the Coverage Checker?
Yes, because it is simple and provides information in layman's language, which is ideal. A legislator who is looking at individual codes has no idea what an all-ceramic restoration versus a high noble metal porcelain fused to metal restoration is. The Coverage Checker makes it easy to understand what types of services a state provides and where and how policymakers might make changes to improve their coverage. It also allows those policymakers to compare their coverage to that offered in other states and to look to other states as examples of where they want to be.