Please create an account to view this recorded webinar.
Create an account
Creating an account is easy. Click the button below to fill out the registration form. Your request will be reviewed and an email confirming your account will be sent within one business day.
Login to your account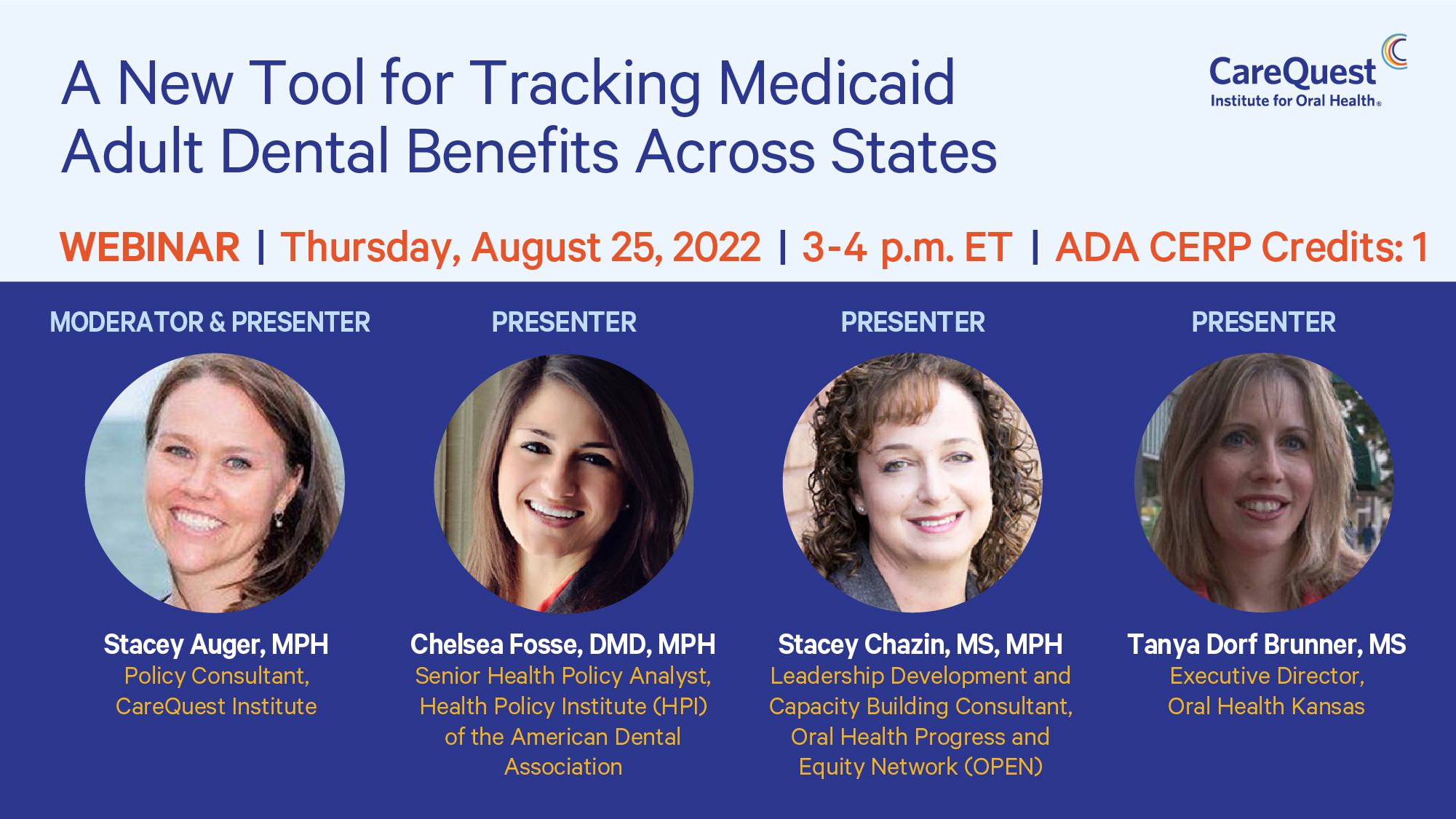 Description
Oral health matters. How we assess dental coverage matters, too.
With the goal of providing states with a clear classification system for adult dental benefits, four national health organizations created the Medicaid Adult Dental Coverage Checker. The Checker, a new interactive tool, allows anyone to easily understand where each state's Medicaid adult dental benefits package falls on a continuum from no dental benefits to extensive benefits, helping them identify areas for improvement over time. Rather than evaluating dental programs only by the number of services covered and annual maximums, the Checker gives an in-depth view of the types and frequencies of services enrollees can receive.
In this webinar, architects of the Checker will explain why it was created and the goals for its use within the oral health community. They'll also provide an overview of how to use the tool. Additionally, an oral health advocate will discuss how she and others can use the tool to improve oral health for adults across the country.
Learning Objectives
Discuss why we needed a new classification system to understand Medicaid adult dental benefits.
Define an extensive adult dental benefit within Medicaid.
Identify the ongoing utility of the Medicaid Adult Dental Coverage Checker.
Use the Medicaid Adult Dental Coverage Checker and its findings.
Moderator & Presenter
Stacey Auger, MPH, Policy Consultant, CareQuest Institute
Presenters
Chelsea Fosse, DMD, MPH, Senior Health Policy Analyst, Health Policy Institute (HPI) of the American Dental Association
Stacey Chazin, MS, MPH, Leadership Development and Capacity Building Consultant, Oral Health Progress and Equity Network (OPEN).
Tanya Dorf Brunner, MS, Executive Director, Oral Health Kansas
This webinar will be recorded.

CareQuest Institute for Oral Health is an ADA CERP Recognized Provider.
ADA CERP is a service of the American Dental Association to assist dental professionals in identifying quality providers of continuing dental education. ADA CERP does not approve or endorse individual courses or instructors, nor does it imply acceptance of credit hours by boards of dentistry. CareQuest Institute for Oral Health designates this activity for 1 continuing education credit.
This continuing education activity has been planned and implemented in accordance with the standards of the ADA Continuing Education Recognition Program (ADA CERP) by CareQuest Institute for Oral Health.
All participating instructors in this program have disclosed that they have the following financial arrangement or affiliation with the listed persons or entity(ies) offering financial support, products, and/or services mentioned or related to the content of this program/activity.
Stacey Auger, MPH,
Corporate Organization: CareQuest Institute