The COVID-19 pandemic has created new and unique challenges for all of us — and the oral health industry is no exception.
Both providers and patients continue to adapt to a new normal as the pandemic passes the one-year mark in the United States. Dental providers, given the nature of their work, are among the professions at the greatest risk of contracting the virus. And everything from patient interactions to payment models to the long-term outlook for the industry has shifted. Meanwhile, an estimated 6 million American adults lost their dental insurance because of a job loss or benefits change that was caused by the COVID-19 pandemic. Many have delayed getting care due to that lack of insurance or the fear of exposure to the virus.
The effects of the COVID-19 pandemic will reverberate for years, and many changes in the industry — increased adoption of teledentistry and the move toward value-based care (VBC), for example — are likely here to stay.
Focusing on Infection Control
The oral health industry showed resilience, especially in the first half of 2020. In June, a CareQuest Institute for Oral Health survey revealed that about 90% of oral health providers saw their patient volumes reduced, on average, by half. During the pandemic, surveys found that dental providers were adapting to the new conditions by implementing new infection prevention protocols and offering more telehealth services. To help, CareQuest Institute partnered with the Organization for Safety Asepsis and Prevention (OSAP), dentistry's global resource for infection control and safety information, to produce a suite of practical provider and patient resources.
Best Practices for Infection Control in Dental Clinics During the COVID-19 Pandemic, for example, consolidated several resources, including checklists regarding personal protective equipment (PPE) and a list of infection control topics to discuss with staff.
The Uneven Effects of the Pandemic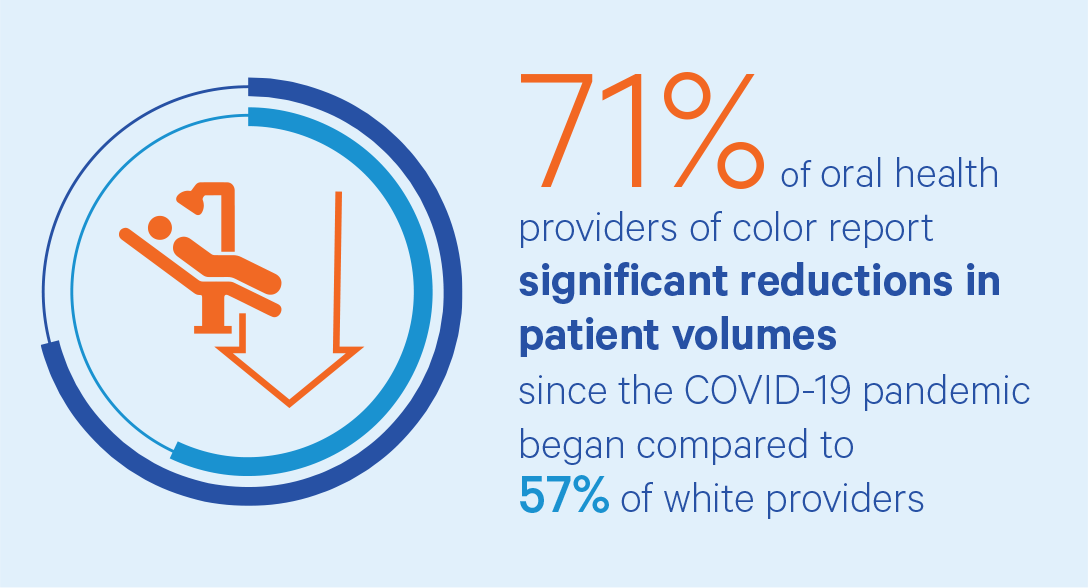 Providers realized early that some of these pandemic-fueled changes were likely to last for years. Another CareQuest Institute survey of more than 4,000 providers found that 93% of providers said they anticipated long-term changes in dentistry. Almost three-quarters (72%) of the respondents said they expected enduring reductions in the number of patients seen on a typical day, while 69% expected lasting changes in infection control procedures.
The impact of the pandemic has been uneven, though. In a recent survey, 71% of oral health providers of color reported significant reductions in patient volumes since the COVID-19 pandemic began, compared to 57% of white providers. The effects have been uneven for patients, too. Even before the pandemic, people of color experienced differences in rates of health insurance coverage, increased barriers to care, and worse health outcomes. Low-income communities and those that are predominantly Black have higher rates of chronic disease comorbidities and poor oral health — both of which are risk factors for COVID-19.
Positive Changes for the Oral Health Industry
A silver lining to the pandemic, if there is one, is that some of these changes will move the industry forward. Improved infection control will benefit everyone even after the pandemic ends and will position dental providers well in the event of another health crisis. Teledentistry has also shown that it offers many benefits — for patients, providers and the overall health system. Many services can be provided just as well — and more safely and efficiently — through telecommunications technology. Teledentistry can also enable providers to reserve office visits for those that truly must occur in person, increasing convenience and flexibility, lowering costs, and expanding access.
CareQuest Institute also advocates for policies to support the transition to teledentistry. Government and industry leaders promoted greater telehealth use during the COVID-19 crisis. Now we need long-term policy changes so that teledentistry can meet patient needs as seamlessly as possible.
The pandemic also accelerated the shift toward VBC and alternative payment models, which can offer stability in uncertain times. While alternative payment models — including population-based models like capitation with quality metrics — would not have prevented the decline of in-person patient visits caused by the pandemic, they could have helped lessen the negative financial impact on dental practices during the pandemic. And they can incentivize providers to continue caring for patients beyond the dental chair, leading to better overall oral health and providing more financial stability for oral health providers going forward.
As we come to the end of the current pandemic, we have a rare opportunity to transform dentistry for the better — to make it more resilient, more responsive to the needs of providers and patients, and more able to withstand a future pandemic or other challenges.