The path ahead needs champions of progress
Together, we are improving the oral health of all.
Announcing . . .

The nonprofit programs of the DentaQuest Partnership for Oral Health Advancement are now part of CareQuest Institute for Oral Health. Learn More.
Research Report
Dentists are an Untapped Resource for Delivering COVID-19 Vaccines
Survey findings highlight the opportunity for dentists to participate in America's mass COVID-19 vaccination efforts.
Research Report
A Coming Surge in Oral Health Treatment Needs
As unmet dental needs worsen while the pandemic lingers and people suffer the loss of jobs and dental insurance, providers could see a surge in oral disease among adults.
Grant Opportunity
Advancing Equity Through Oral Health Fund
A multi-year grantmaking fund that supports efforts to erase unjust disparities across oral health access, treatment, and outcomes.
Search all CareQuest Institute resources by topic area
Find webinars, online learning courses, training opportunities, publications, and more using our new search-by-topic tool.
Catalysts for change
We work with thought leaders, health care providers, patients, and local, state, and federal stakeholders, to accelerate oral health care transformation and create a system designed for everyone.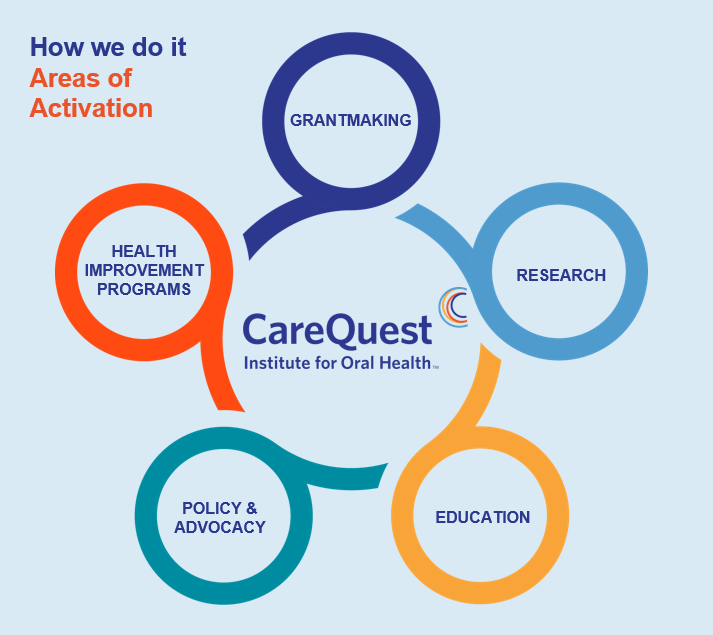 To drive meaningful change, we approach key oral health issues from a variety of perspectives and through a variety of tools.